T

echtextil North America, an international trade fair for technical textiles and nonwovens
held recently in Atlanta, proved a success for visitors and exhibitors alike. The show, in its
fourth edition, hosted 329 exhibitors from 25 countries, while there were a record 4,081
registrants from 43 countries. International exhibitor participation also increased, with the show
featuring 10 pavilions from Belgium, Canada, China, France, Germany, Italy, Portugal, South Africa,
Taiwan and the United Kingdom.

Rogowski Keynote


Techtextil-Symposium North America, held concurrently with the show, opened with keynote
speaker Greg Rogowski, president and CEO, Richmond Va.-based Performance Fibers Inc. In his speech,
titled Navigating the New Global Economy, Rogowski noted fiber and textile companies survival in
todays competitive global economy depends on anticipating and reacting to rapid change. According
to Rogowski, that transformation mentality is key to the success of Performance Fibers, where
management uses adaptive planning and rapid implementation (APRI), described as continuous, focused
strategy and decisions. Rogowski said the APRI process requires commitment of both financial and
human capital, and acting in the short term for long-term benefits.
According to the company, under the ownership of Boca Raton, Fla.-based Sun Capital Partners
Inc. since late 2004, Performance Fibers has demonstrated its ability to make fast decisions and
investments to grow its business through a series of plant expansions and acquisitions over the
past year. It also recently signed a letter of intent to acquire Invista Resins & Fibers GmbHs
Germany-based polyester yarn business.
"It was great to hear the positive buzz on the growth of the industry and its boundless
opportunities for the future," Rogowski said. Performance Fibers also participated as a Techtextil
exhibitor and sponsor.

Diverse Exhibitors And Visitors


"I thought the show was very well-attended," said Dean Yarborough, director of new business
development of Columbia, S.C.-based based Shakespeare Co. LLC. "It provided an excellent
opportunity to discuss our products and value propositions with many diverse prospects and
customers. The environment was upbeat and optimistic, as more companies are beginning to find their
niches in the textile markets."
Optimism was a common theme at the event. Udo Skarke, manager of Duncan, S.C.-based Erhardt +
Leimer Inc.'s Textile Division, said: "The visitors were great, and we had some very sound contacts
and leads from the show. There were very specialized companies and visitors with a focused and
specific need at the show, which makes it somewhat unique. We had our pick counter on display for
the first time, and we received very good feedback from interested companies. It was very important
to us that we not only were looking for contacts at our booth, but actually walked the show, making
contact with the exhibitors who were also our potential customers."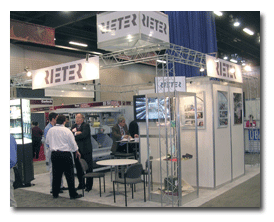 Rieter showed technologies from its nonwovens and filament yarn technologies divisions at
Techtextil.


The show offered an international mix of fiber, yarn and fabric producers; as well as
machinery and chemical suppliers and end-users. Nonwovens was a hot topic.
Jean-Noel Cozon, vice president, of Fort Mill, S.C.-based N. Schlumberger (USA) Inc. a part
of the France-based NSC Group observed: This show has grown very well over the last three events
and was of particular interest in the high-technology fabrics and processes being showcased. It was
our first time as exhibitors, and we were very pleased with the contacts made. The show is simple
enough and short enough that it is possible, not only to see all that is being proposed, but also,
it does not need vast expense to showcase big equipment.
"NSC nonwovens strength and expertise is in providing state-of-the-art lines in
needlepunching as well as spunlacing. Although launched already at ITMA 1999, the ProDyn totally
flat nonwoven system continued to attract and interest many companies that have not supported the
ITMA shows in recent years. The ability to closely control the cost of fiber in a particular
nonwoven fabric has become an essential key to success in the current high-fiber-price climate. "
"We liked the compact size and location close to many US nonwoven companies and the specific
focus on the nonwoven technologies of the future, rather than it being just a machinery show, Cozon
said. This was more about ideas, concepts and what is possible. "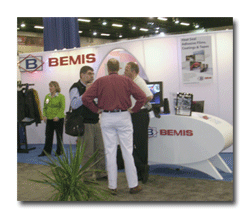 Bemis, Shirley, Mass., manufactures thermoplastic adhesives, coatings, tapes and specialty
film products for industrial and apparel end-uses.


Laminates And Adhesives


"We found the event to be very worthwhile this year," said Karen Hesselbart, sales support
manager of Switzerland-based Ems-Griltech's operation in Sumter, S.C.
In 2005, the company began offering flame-retardant adhesives for use in applications
including office furnishings, according to Hesselbart. In addition, information regarding adhesives
for filtration applications drew interest.
"Because Ems-Griltech offers the services of our Technical Service laboratory, we are able to
laminate samples of our adhesives for our customers to test various adhesives and processing
applications to best suit their business," Hesselbart said.
"Many of our current customers attend this show, and this provides a great opportunity for us
to meet with them," she added. "This venue offers our sales force the opportunity to meet many
customers in a short amount of time. Also, our engineers attend the show, and this allows our
engineers and the customers the opportunity to meet and discuss technical applications."

Machinery And Textiles


Andrea Jonoch, area sales manager of Italy-based SMIT S.p.A., stated the company was
successful in meeting several customers interested in investing in new equipment for technical
textile products.
"We received orders for the GS900 reinforce loom, which we will finalize within April,"
Jonoch said. "Our customers exhibit textile products at the show, but at the same time know we are
present. They take advantage of the opportunity to meet with us, exchanging information, launching
new projects. This show helps us to consolidate SMITs image as a loom manufacturer for technical
fabrics. As a technical fabrics show, this is a niche of growing business in North America; it
drives the visitors that have interest in investing in new equipment. "
As one of several fabric manufacturers at the show, Glen Raven Technical Fabrics a subsidiary
of Glen Raven, N.C.-based Glen Raven Inc. continued its pursuit of building its brands.
Hal Bates, marketing coordinator said: "From a marketing perspective, we are interested in
developing leads, but at Techtextil there are so many markets present auto, military, flame
protection, medical, outdoor and it was well-attended by all segments. It fits well with what we do
and where we want to head. There was also a wealth of yarn vendors that provided an additional
opportunity an added benefit. "
Bates noted that because Techtextil is less market-specific, it is a place to make first
contacts and generate new leads rather than take orders. "But," he continued, "in terms of lead
generation, this gives us an opportunity to develop new business. Current customers are here as
well, so this is an added dimension and an economical one." For our market, Techtextil North
America is very focused.
"We are a private company; this is another avenue to publicize our Glen Raven brand," Bates
continued. "We've got GlenGuard® FR, which is the lightest-weight flame-resistant fabric that is
NFPA 70E-rated for the protection of electrical workers. "
"We will be at the next one and at other editions in Europe," Bates added. "Wed like to see
it get bigger. Atlanta is a good location, but we would like to see it continue to grow. "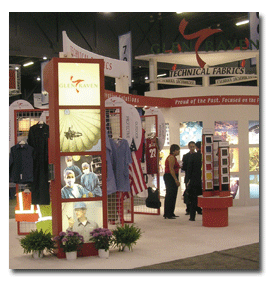 Glen Raven Technical Fabrics was at Techtextil to promote its Glen Raven brand.



Looking Forward


"We were extremely pleased with the high quality of the attendees this year, and we will be
continuing with our expanded attendee marketing campaign to ensure that this growth is repeated at
the next edition of the show," said David Audrain, president, Atlanta-based Messe Frankfurt Inc.
The fifth edition of Techtextil North America will be held April 1-3, 2008, at the Cobb Galleria
Centre in Atlanta.
---

Techtextil-Symposium North America Highlights


Techtextil-Symposium North America attracted a record number of attendees to its 13 sessions.
Topics ranged from trade, the global marketplace and industry dynamics; to recent research,
emerging technologies, protective fabrics, high-performance fibers and textiles, nanotechnology,
technical nonwovens, and automotive textiles; to future development as seen from the end-users
perspective. With two or three concurrent sessions each presenting a wealth of information in most
time slots, attendees often were hard-pressed in choosing which to attend; and not a few switched
back and forth among the various programs to catch particular presentations within each.
Nanotechnology seemed to be everywhere. Two sessions were devoted exclusively to that topic
one concerning research and development, and the other presenting products and applications.
However, it also cropped up within sessions covering emerging technologies, high-performance fiber
developments, high-performance textile applications, and technical nonwovens research and
applications.
The ever-popular National Textile Center (NTC) technical textiles research session presented
seven projects ongoing at various universities that are members of the research consortium.
Potential applications include fuel cells, medical implant devices, fluid transport,
impact-resistant fabrics, performance and process additives and lubricants, ultra-high-modulus
aliphatic nylon fibers to replace high-density polyethylene or para-aramids, and comfort wear with
shape memory. Session Chair Martin Jacobs, NTC's executive director, stressed in his introduction
that all technology developed through NTC is available for implementation by private industry.
A new session at this year's symposium, Textiles: Look Forward for Future Generations,
delivered a wish list for textile solutions to problems encountered by end-product developers,
architects and designers. The presenters encouraged unconventional thinking among textile
developers, offering some very creative ideas about how textile products could address various
specifications.
– By Janet Bealer Rodie, Associate Editor
---
May/June 2006