A

lthough overall participation at the Industrial Fabrics Association International (IFAI)
Expo 2005 was a bit lower than in 2004, exhibitors reportedly were "extremely happy" with the
results.
"We couldn't figure out at first why there was such a positive feeling on the show floor
knowing that our attendance was about the same as in Pittsburgh [the site of IFAI Expo 2004], but
our post-show exhibitor survey reported that exhibitors were happy for two reasons," said Stephen
M. Warner, IFAI's preson 150th Anniversary touring venueident and CEO.
"First, there were a lot of new faces. Forty-four percent of those attending were not there
last year; 17 percent were from outside the United States. That's a record for us.
"Second," he continued, "the visitors represented larger companies, and more were in the
emerging markets like medical, safety, structures and military applications."
Of the 437 exhibitors — up from 413 in 2004 — 83 participated for the first time at IFAI Expo
2005, held late last year in San Antonio. The number of attendees totaled 6,259, coming from a
record 51 countries to see what exhibitors had to offer and learn about new developments in the
specialty fabrics sector.
First-time attendees Gene and Maggie Huser of Kemah, Texas-based Bristol Fashion found the
expo to be quite worthwhile."We made many contacts and were awestruck by the technology out there,"
they said. "IFAI Expo 2005 helped us, as small business owners, become more knowledgeable for our
customers."
In addition to the commercial exhibits, the expo included two pre-conference symposia —
Fabric Structures 2005 and Textiles & Graphics — that attracted participants from new market
segments. Fabric Structures 2005 attracted more than 200 architects, designers, structure
fabricators and installers. Textiles & Graphics reached out to those involved with digital
graphics.
Activities also included educational programs under 12 tracks: Automotive; Filtration;
Geosynthetics for Landscape Architecture; Medical Textiles; Safety & Protective; Sports &
Recreation; Awning & Canopy; Banner & Flag; Inflatable & Tent; Marine; Upholstery; and
Business & Leadership. The programs presented new technologies and ideas such as innovations
brought about by the needs related to emerging markets. More than 100 speakers — including keynote
speaker Doug Lipp, former head trainer at Walt Disney University — shared their insights and
knowledge with expo attendees.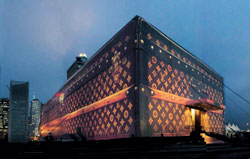 Fabric Shelter Systems Ltd., New Zealand, won an IFAI 2005 International Achievement Award
of Excellence for the tent it designed for the Louis Vuitton 150th Anniversary touring
venue.

Advanced Fabrics

Exhibition Shows Creative Extremes


Of special interest at IFAI Expo 2005, the Advanced Fabrics Exhibition promoted creativity
and innovation in the use of specialty fabrics.
On view were apparel, furniture, bowls and vases, bags, architectural systems, habitat, and
other objects and prototypes inspired by various specialty fabrics. Examples included: a
daylight-blocking, light-emitting curtain lamp submitted by Linda Worbin, Sweden; a strong,
lightweight resin-coated chair made of knotted carbon-fiber/aramid hybrid yarn submitted by Marcel
Wanders, Amsterdam; sports bags made with 3-D spacer fabrics submitted by Hybrids + Fusion, The
Netherlands; and coral-like bowls made by dipping cotton crocheted bowls into porcelain and then
firing them, which causes the cotton to burn away, submitted by Hil Driessen, Amsterdam; among
other articles.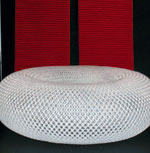 Objects shown at the Advanced Fabrics Exhibition included "Fusion" – a seating object
comprising a 3-D, flexible material wrapped around a rubber ring submitted by Sachio Hihara, Japan
– shown in front of a sound-absorbing wool fabric submitted by Margareta Zetterblom,
Sweden.

Looking Ahead


Warner said a post-expo visitor survey indicated 65 percent of those polled planned to make a
purchase from an exhibitor within two weeks of the event's closing as a result of the contact made
there. The post-expo exhibitor poll indicated 89 percent would return next year.
More than 70 percent already have reserved space for IFAI Expo 2006, scheduled for Oct.
31-Nov. 2, 2006, at the Georgia World Congress Center in Atlanta as part of Megatex 2006 — a
colocation of textile industry events that also will include the American Textile Machinery
Exhibition-International® 2006 and the American Association of Textile Chemists and Colorists
International Conference & Exhibition 2006.
---

IFAI International

Achievement Awards Of Excellence


IFAI presented 83 2005 International Achievement awards including 30 awards of excellence for
the following specialty fabric projects:
• Tension Structures, Under 10,000 square feet (ft2): FTL Design
Engineering Studio, New York City, and Taiyo Birdair Corp., Amherst, N.Y., Mesa Arts Center, fabric
trees;
• Tension Structures, 10,000 to 30,000 ft2: Tenso Estructuras
Arquitectónicas, Mexico, Auditorio Parque Olímpico; and FTL Design Engineering Studio and Taiyo
Birdair Corp., Hampton Roads Convention Center, tensile structure;
• Tension Structures, More than 30,000 ft2: Covertex GmbH,

Germany, soccer stadium,

AWD-Arena;
• Air Structures: Covertex GmbH, soccer stadium, Allianz Arena;
• Awnings, Commercial, Illuminated, Interior and Multi-Family Residential:
Baraboo Tent & Awning Inc., Baraboo, Wis., Adams County Memorial Hospital;
• Awnings, Single-Family Residential: Sunmaster of Naples Inc., Naples,
Fla., Martin residence;
• Awnings, Retractable: Rolltec Rolling Systems Ltd., Canada, awnings over
terrace area;
• Canopies, Commercial, Illuminated and Multi-Family Residential: Sundance
Awning & Fabric Structure, Orlando, Fla., Seasons 52 Restaurant canopy;
• Canopies, Single-Family Residential: Miami Beach Awning Co. Inc., Miami,
Claramonte-Neves residence;
• Free-Standing Canopies: Sundance Awning & Fabric Structure,
Nickelodeon Family Suites Hotel;
• Banners and Flags, Small Scale/ Arts & Crafts: The Design Loft Inc.,
St. Louis, Eastpoint Mall, Butterfly/Dragonfly Court;
• Banners and Flags, Large Scale/ Special Events: Sundance Awning &
Fabric Structure, Port Canaveral Cruise Terminal;
• Marine Exterior Fabric Products (Powerboats): Eau-Vent L.M. Inc., Canada,
Bayliner 3880;
• Marine Upholstery and Interior Fabric Products: Calypso Marine Canvas
(Trinidad) Ltd., Trinidad and Tobago, Quick Like;
• Marine Exterior Fabric Products (Sailboats): The Boatswain's Locker Inc.,
Jacksonville, Fla., 466 Harker;
• Party Tent Rental: Affordable & Luxury Tents, Virginia Beach,

Va., Stacy Smith/Mark Gonsenhauser wedding;
• Commercial Tent Rental: Roder Zelt-und Veranstaltungsservice GmbH,
Germany, Chio World Equestrian Festival;
• Tent Manufacturing: Fabric Shelter Systems Ltd., New Zealand, Louis
Vuitton 150th Anniversary touring venue;
• Architectural Structures, Other: Sun Ports International Inc., Dallas,
Deer Springs Park; and Castro Rojas Ingenieros y Arquitectos Ltda., Colombia, Centro Comercial
Sambil;
• Graphics: Pink Inc., New York City, circle surrounds;
• Trade Show/Exhibit Booth: Taiyo Membrane Corp., Australia, Stadia China
exhibit structure;
• Interior Projects: Studio Lilica, Arcadia, Calif., Nine Wings; and
Architen Landrell Ltd., Wales, Spiky & Cloud pods;
• Interactive and Cold-Air Inflatables: Canvasland Holdings Ltd., New
Zealand, Pelican;
• Geosynthetic Projects: Mirafi Construction, Pendergrass, Ga., Trump
National Golf Club;
• Industrial Applications: Carpas y Lonas el Carrousel S.A. de C.V.,
Mexico, Dolphin Adventure;
• Safety and Protective or Medical Products: Rainier Industries Ltd.,
Tukwila, Wash., GOX Seals, NASA Space Shuttle; and
• Miscellaneous: Hightex GmbH, Germany, Melancholia.

---
January/February 2006