T

he Cary, N.C.-based Association of the Nonwoven Fabrics Industry (INDA) presented IDEA04
– the international engineered fabrics exposition and conference – recently in Miami Beach, Fla.
This edition highlighted the growing importance of nonwovens and technical textiles – included for
the first time at this year's show – as ubiquitous products that impact our lives.
More than 300 companies – including 20 technical textiles businesses – from 47 countries
exhibited new products and innovations to nearly 7,000 visitors.
The accompanying three-day conference program covered a wide range of nonwoven products and
markets. These included wipes, diapers and incontinence products for consumers; medical garments;
protective apparel; geotextiles; home furnishings; filtration; and automotive products.
A common theme of the conference program was the need to stay abreast of the growing number
of governmental regulations impacting all products in which textile and nonwoven products are used.
Meeting some of the requirements imposed by government organizations such as the Food and Drug
Administration, Consumer Product Safety Commission (CPSC), Environmental Protection Agency, and
Occupational Safety and Health Administration adds complexity to the new product development
process. However, meeting these requirements provides opportunities to develop higher-performance
specialty products. The upcoming CPSC regulations for fire safety in sleep products are forcing
companies to focus more attention on the use of flame-retardant (FR) fibers, FR additives for
polymers and topical fabric finishing treatment.
The need for better-performing protective apparel materials for firefighters and emergency
medical responders was discussed at the conference by Kirk Owen, head of the Support Services
Division with the Plano, Texas, Fire Department. His men use basic fire-protective gear made from
polybenzimidole/Kevlar® fabric.
In addition to fire protection, firefighters and emergency medical responders also are faced
with exposure to hazardous chemicals and possibly to chemical/biological materials. These
situations require several special types of clothing for emergency responders. Desired improvements
in such specialized clothing include greater comfort, lightweight sensor systems to remotely
monitor the status of the wearer, and more effective cooling systems.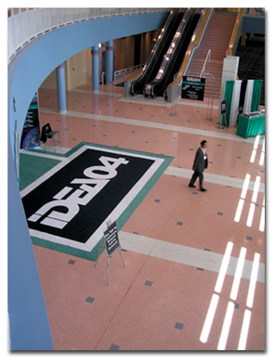 IDEA04 Trends


The globalization trend was very evident at the show – both in suppliers to the nonwovens
industry and in the number of foreign nonwovens manufacturing exhibitors. US-based nonwovens
manufacturers are starting to respond to growing imports of nonwoven products by more carefully
targeting markets with lower-volume, higher-priced specialty products. The Chinese and Taiwanese
nonwovens associations, co-located at the show in one booth, represented the largest single
contingent of offshore manufacturers, roll goods producers and nonwovens industry suppliers at the
show.
It was evident that the choice of polymers for melt spinning of fibers and for nonwoven
structures continues to grow. Polypropylene and polyester remain the dominant polymers, but use of
other specialty polymers likely will grow to meet the needs of high-performance niche markets.
Bicomponent and multicomponent fibers also continue to grow in use – both as fibers and in
spunbonded, meltblown and spunlaced products.
The use of finer-denier fibers in all major types of nonwovens is expanding, as is the use
of specialty fibers for nonwovens.
Composite nonwoven products are growing in number and in sophistication. Composite types
include the use of multiple polymers within a fabric, combining nonwovens produced by different
processes, and fabrics combined with films and/or polymeric foams.
It also was evident that more nonwoven products made from biodegradable components are
available.
Consolidation in the worldwide fiber business is a continuing trend. Lenzing AG, Austria, is
taking over the entire Tencel group of companies. Subsidiaries of Wichita, Kan.-based Koch
Industries Inc. recently acquired Wilmington, Del.-based INVISTA™ Inc. from DuPont
(See "
Textile
World News," June 2004).
Consolidations and acquisitions of machinery manufacturers will continue along with
cooperative efforts between other companies to offer total systems to their customers.
It was also evident that more machinery companies are establishing pilot facilities to
enable customers to evaluate their products. In some cases, companies are producing enough product
to enable customers to evaluate them; and in some cases, companies are producing enough product to
test-market the final product.
Nonwovens finishing is getting more attention as nonwovens producers develop products to
meet more demanding requirements for protection in hospital/medical and emergency response
applications.
As nonwovens continue to replace woven and knitted substrates for coating and laminating,
machinery producers and custom laminating firms now are offering systems designed specifically for
nonwovens.
lncreasing sophistication in measurement and control systems for nonwovens boosts output,
improves quality and reduces waste.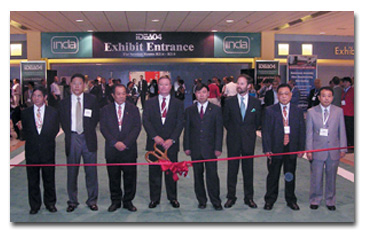 Executives stand ready to cut the ribbon and open IDEA04.

Polymers For Nonwovens Applications


Summit, N.J.-based Ticona, a business unit of Germany-based Celanese AG, is a producer of
engineering thermoplastic polymers, representing about 16 percent of its parent company's sales.
Ticona's major sales are for automotive exterior, interior and under-the-hood products. The company
also supplies polymers for specialty packaging.
Ticona presently supplies polyphenylene sulfide (PPS) and polybutylene terephthalate (PBT)
polymers for meltblown products, spunbonds, extruded nettings and multicomponent fiber systems.
Ticona also produces a wide range of engineering thermoplastic resins that may have
potential uses for specialty nonwoven products. These include its Vectra® liquid crystal polymer,
Celcon® acetal, polyarylates, specialty nylon 6 and nylon 6,6, and alloy-type polymers.
In 2000, Ticona began operation of a 30,000-metric-ton Topas® cyclic olefin copolymer plant.
This material withstands steam sterilization at 121°C for 20 minutes. Although no
cyclo-olefins have yet been reported for textile or nonwovens use, they might bear further
investigation.
At the show, ExxonMobil Chemical Co., Houston, emphasized its Achieve™ 6936G1 metallocene
polypropylene for meltblown applications. The melt flow rate of 1,500 for this polymer is designed
for optimum meltblown processability.
The company recently introduced its Vistamaxx™ specialty elastomer for use in elastic
spunbond and meltblown nonwovens, and for production of elastic fibers and films. Vistamaxx
specialty elastomers originally were developed as thermoplastic elastomers for automotive and
industrial mechanical goods.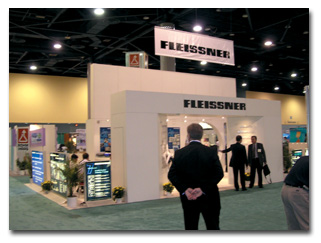 At IDEA04, Fleissner provided information about a number of its products including its
AquaJet™, AquaPulp™ and AquaSpun™ systems.

Fiber Developments


Hills Inc., West Melbourne, Fla., has been a pioneer in the development of turnkey extrusion
systems for manufacturing bicomponent and multicomponent fibers, spunbonds, and meltblown products.
The company's latest developments include an Islands-In-A-Sea spunbond that is useful for
filtration and other applications requiring fiber sizes of less than 2 microns. At IDEA04, it
showed samples of the wide range of bicomponent fiber cross-sections that can be produced using its
spinning equipment. These include 35-holes-per-inch (hpi) sheath/core, 16-segment hollow pie, and
25 and 36 Islands-In-A-Sea spunbonds. Hills has a 200-hpi meltblown die under development.
Finer-denier fibers in drylaid and spunlaced nonwovens provide additional softness and
comfort, and also increase the wicking capability of nonwovens. Major polyester fiber producers
such as Invista and Wellman Inc., Shrewsbury, N.J., supply fibers as fine as 1 denier for nonwoven
products.
Recently, Covington, Ga.-based FiberVisions Inc. developed a polypropylene fiber in the
1-denier range for nonwoven products. For this development, FiberVisions was a finalist for the
IDEA04 Achievement Award.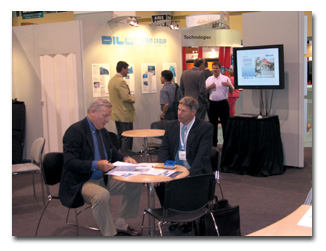 A Dilo Systems Group representative discusses the company's products with an interested
customer.

Fabric Developments


DuPont Nonwoven Technologies, Old Hickory, Tenn., has modified its spunbond process to
enable it to combine different types of fibers within a fabric structure. One of the early products
resulting from this Advanced Composite Technology™ is Suprel™ for medical applications. Suprel is
made of polyester filaments for strength in combination with filament polyethylene for softness,
and is designed to be low-linting. The fabric also has less surface friction than other medical
fabrics and allows for greater comfort and freedom of movement in products such as surgical gowns.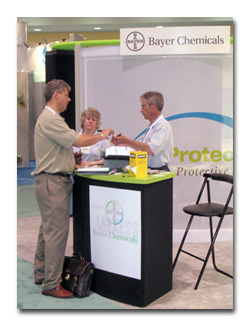 Bayer Chemicals Corp. highlighted its BayProtect® protective finishes for nonwoven and
industrial products.

Progress In Machinery


Germany-based Reifenhäuser GmbH's Reicofil® spunbond system now has the ability to switch
from polypropylene to polyester with only modest changes. Improvements have been made in the
aerodynamic fiber drawing and fiber controls systems, resulting in stronger and more uniform
fabrics. The incorporation of the meltblown units can be done in a single-beam or double-beam line.
The Reicofil system can be adapted to produce bicomponent fibers in the fabric.
Greensboro, N.C.-based Rieter Perfojet, a subsidiary of the Rieter Group, Switzerland, now
supplies one of the most complete product ranges for the nonwovens industry. In addition to
nonwovens equipment, the company offers a line of palletizing equipment to provide compounding
capability. Rieter makes all of the basic components such as spin beams and extruders for its
spunbond PERFObond 3000 and meltblown EMBLO systems. For spunlace production, the company supplies
JETlace 3000 and PERFOdry 3000 units. A recent addition to its product line is the AIRlace 3000
spunlace/airlaid combination unit for wet wipes. This product enables man-made fibers to be
entangled with cellulosic pulps.
The recent acquisition of Germany-based Fleissner GmbH by Frankfurt-based Zimmer AG should
be very synergistic and enables the companies to provide a complete package from fiber to finished
spunlaced fabrics. Fleissner is now represented in the United States and Canada by Richmond,
Va.-based Fi-Tech Inc.
Fleissner provided information about a number of its products at the show. The company
continues to improve the efficiency and versatility of its AquaJet™ Spunlace Systems. Improvements
in the jet head provide greater fabric uniformity and have allowed manufacturers to use these
fabrics as substrates for synthetic leather. The AquaPulp™ system combines spunlace and airlaid
nonwoven processes. The AquaSpun™ system is used for the spunlacing of spunbonded fabrics.
Fleissner has supplied more than 10,000 of its through-air drum dryers for nonwovens and other
textile and paper applications.
In addition to Fleissner machinery, Fi-Tech also presented information on cutters, balers,
slitters and crosslappers from Autefa Nonwovens; winders from Edelmann Maschinen GmbH; spunlace jet
strips, meltblown die tips and spinnerets from Enka tecnica GmbH; meltblown, composite and turnkey
spunbond plants from Reifenhäuser; spin finishes and surfactants from Schill & Seilacher KG;
and engraved rolls from Ungricht Roller and Engraving Technology, all Germany-based companies.
Fi-Tech also highlighted spunlace water filtration systems from Idrosistem S.r.l., Italy.
Micrex Corp., Walpole, Mass., has supplied the Microcreper to the nonwovens industry since
1960. The Microcreper mechanically compresses nonwoven fabrics and can impart softness,
drapability, texture, bulk and increased absorbency. Major applications for the system include
wipes, bandages, surgical sponges, wound dressings and cast wraps. Patterns and effects such as
seersucker, crepe and plissé can be added to fabrics. The Microcreper is available in 76- and
124-inch widths.
Micrex recently has expanded its plant facilities and installed Microcrepers in a pilot
facility. This facility permits customers to process sufficient quantities of material to enable
them to test-market their products that use the process.
Eduard Küsters Maschinenfabrik GmbH & Co. KG, Germany, represented in the United States
by Spartanburg-based Zima Corp., presented the Twin Calender to IDEA04 visitors
(See "
NW/TT
News," June 2004). The company also highlighted developments in nonwovens wet finishing.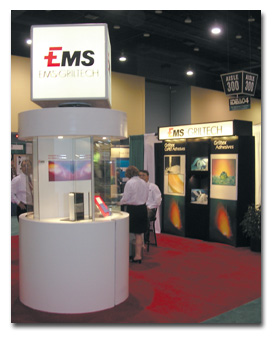 EMS-GRILTECH Americas promoted its copolyamide and copolyester thermoplastic adhesives,
among other products.

Other Technology Of Note


Pittsburgh-based Bayer Chemicals Corp. offered information on BayProtect® protective
finishes for nonwoven and industrial fabrics. Suitable for medical scrubs and disposables, and
protective clothing, among other products, BayProtect finishes offer stain protection, water and
oil repellency, and soil-release agents.
EMS-GRILTECH Americas, Sumter, S.C., showcased copolyamide and copolyester thermoplastic
adhesives and bicomponent and fusible fibers, as well as nylon 6 fibers for such markets as
consumer and industrial, transportation, apparel interlining, and paper machine clothing.
Charlotte-based Groz-Beckert USA Inc. presented technical information and sales assistance
related to its line of needles suitable for nonwovens applications.
IDEA07 is scheduled to be held April 24-26, 2007, in Miami Beach.
June 2004