Following is a selection of technical textiles products and services that will be on display at
Techtextil 2003, April 8-10, in Frankfurt.
The OMNIplus-TC weaving machine, suitable for the production of tire cord, will be shown by
Picanol NV, Belgium. The OMNIplus air-jet weaving machine, as well as the GamMax rapier machine,
suitable for the production of airbag fabric, also will be on display.
Germany-based Lindauer Dornier GmbH will provide information about its rapier and air-jet
weaving machines for the production of high-quality technical textile fabrics for such end-uses as
furniture, airbags and billboards.
Fleissner GmbH & Co. KG, Germany, will highlight its machinery and production lines for
the nonwovens sector and technical textiles, including the AquaJet and AquaTex hydroentanglement
lines.
SML Maschinengesellschaft mbH, Austria, will have on hand its improved Austrofil FDY
multifilament spinning line, with a redesigned extruder screw that allows increased output of up to
160 kilograms per hour.
Reimotec Maschinen-und Anlagenbau GmbH, Germany, a member of the Reifenhaüser Group, will
show extrusion lines suitable for the production of monofilaments used for screens in technical
textiles and a variety of other applications.
Degussa AG, Germany, will show its line of hotmelt adhesives, including its latest offering,
Vestamelt® 470-P830, a high-viscosity powder that allows sensitive fabrics to be bonded without
hotmelt adhesive bleed-through or delamination.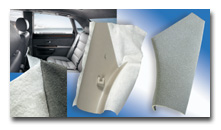 Degussa, supplier of hot-melt adhesives for automotive applications, will exhibit at
Techtextil, April 8-10.
Bostik Findley Ltd., England, will present a range of new thermoplastic adhesive nonwovens in
a variety of widths and weights.
Leister Process Technologies, Switzerland, will display its new automatic welding Unimat and
Uniplan machines, which have replaced its Universal product line. Unimat and Uniplan feature low
operating noise and high speed, according to Leister.
Noise insulation technologies will be prominent at this year's show. Protechnic S.A., France,
will showcase its lines of polyurethane and polyester laminates designed to protect against noise
and cold for the building sector.
Haute Technologie, Italy, will exhibit worsted spinning systems for the production of
technical fabrics for such uses as noise and temperature insulation.
O.R.V. S.p.A., Italy, will show Polipren T environmentally-friendly sound insulation
material.
A two-layered, filled, PVC-coated noise insulation fabric will be shown by Julius Heywinkel
GmbH, Germany.
The Mobiltech segment of this year's Techtextil will showcase technical textiles for the
automotive and transport sectors.
J.H. Ziegler, Germany, will present flame-bondable nonwovens, as well as nonwoven fabrics
that reduce surface tension without changing qualities such as strength or thickness.
The G 1503 airbag yarn from Gütermann AG, Germany, will be on display. Zwibond and Zwilon
polyamide 6,6 threads, and profilen ultraviolet (UV)-resistant polytetrafluoroethylene (PTFE)
thread also will be shown by the company.
Wacker Chemie GmbH, Germany, will present its airbag silicon coating for the prevention of
yarn-on-yarn friction in airbags.
Germany-based Saxon Textile Research Institute will debut a cooled car seat; non-slip
fastening for child-seat covers; and three-dimensional, recyclable nonwoven fabrics for upholstery
purposes.



March 2003