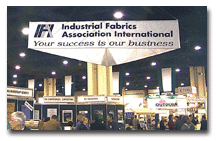 The Industrial Fabrics Association International (IFAI) Expo 2002, held Oct. 24-26 at the
Charlotte Convention Center, Charlotte, attracted 490 exhibitors and more than 7,000 attendees
representing the specialty fabrics industry. Pre-conference events included the 3rd International
Conference on Safety & Protective Fabrics and the annual Textile Technology Forum. "I think we
surprised a lot of people with the expansion of the scope of the show this year," said IFAI
President Stephen Warner, CAE.
IFAI Expo 2003 will be held Oct. 1-3 at the Las Vegas Convention Center, Las Vegas.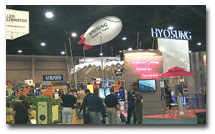 490 Companies from 54 countries exhibited at IFAI Expo 2002.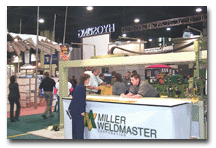 Miller Weldmaster Corp.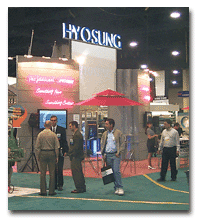 Hyosung Corp. had a presence at the show.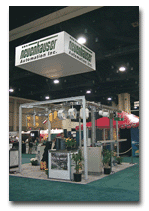 Neuenhauser Automation Inc.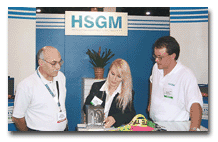 Sigrid Axford (center), vice president, and Michael Cox (right), product manager, HSGM
Heatcutting Equipment & Machines Inc., demonstrate a pneumatic tabletop cutting unit to a
visitor.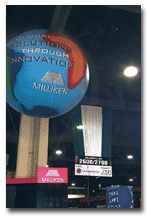 Milliken & Company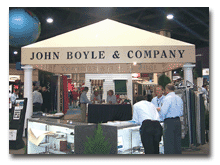 John Boyle & Co.
January 2003