By Jennifer Wheeler, Assistant Editor High-Tech TextilesThe second edition of Techtextil North America brought the thriving world of technical textiles and nonwovens to Atlanta. The world of technical textiles and nonwovens recently came to Atlanta with the second edition of Techtextil North America (TTNA). Held at the Cobb Galleria Centre, the trade show saw a 30-percent expansion in exhibitor space over the inaugural 2000 show, proving that the technical textiles market is no longer an emerging sector in North America, but a thriving one. We were very happy with the show. Feedback from visitors was positive, said Daniel McKinnon, director of textile fairs for Messe Frankfurt Inc., Atlanta, the trade shows producer.More than 290 exhibitors from 21 countries, along with more than 4,000 attendees from 40 countries, made contacts and filled orders during the show and at the companion Techtextil Symposium North America, which comprised three days of seminars covering a wide range of industry topics, including new and emerging technologies and research in technical textiles.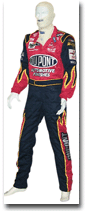 Yarns supplied by Italy-based Fil Man Made Group became the basic ingredient for various technical products, including fire protective clothing for Formula One drivers and firemen. Exhibitors specializing in the areas of machinery and technology, fibers, fabrics and finished products showcased their latest products and innovations during the event. MachineryandTechnologyLaminating machinery manufacturers were in abundance at TTNA. Paterson, N.J.-based Glenro Inc. presented its latest line of flatbed laminating machines, which use Conductaplane flat-faced heating modules and PressPlane+ pneumatically pressurized top beds. The company also showed Radplane® Rapid Response Electric Infrared Heaters-Series 80, which offer high conversion efficiencies of electrical power input to usable radiant energy.Schaetti AG, Switzerland, and Kannegiesser GarmentandTextile Technologies, Germany, showed the TLM-V flatbed laminating machine and TLM lamination modules, suitable for processing thin, delicate materials.Germany-based Klieverik Heli BV (Zima Corp., Spartanburg) displayed Ecosafe environmentally-friendly laminating systems for substrates used by the automotive industry. Cavitec AG, Switzerland, attended TTNA to promote its hotmelt coating and laminating lines for the automotive, technical textiles and garment sectors.Zimmer Machinery USA, Spartanburg, presented its Magnoroll finishing machine and the Zimmer Variopress. Applications for the Magnoroll include surface coating, dot coating, print bonding and impregnation of aqueous, paste and foam products. The Variopress is a brand-new machine that applies a full cover coating of foam or paste in working widths of up to 350 centimeters. Lacom Vertriebs GmbH, Germany (Zimmer Machinery USA), had information on its innovative and complete line of coating and laminating machinery using hot-melt adhesives.Other companies were promoting the latest in quality control and materials testing. Lawson-Hemphill Inc., Spartanburg, exhibited the Force Shrinkage Tester FST-3000, which is a new generation of force and force-shrinkage tester for yarn monofilament. Also offered was the ColorQuest® XE-Touch, manufactured by Reston, Va.-based HunterLab. ColorQuest is a self-contained reflectance/transmittance color-measurement spectrophotometer used in the measurement of fabric, yarn, fiber and dye colors.Germany-based Enka tecnica GmbH (Fi-Tech Inc., Richmond, Va.) promoted its Fraytec opto-electronic filament-break sensor models for the detection of filament breaks during high-speed spinning or processing of filament yarn. Mahlo America, Spartanburg, exhibited the Qualiscan QMS-A, a fully modular quality-control system that monitors moisture retention, applied coating thickness and weight per unit area.H. Stoll GmbHandCo., Germany, promoted its flat knitting machines for the production of customized, knitted-to-fit seat covers and suspension fabrics for use in the contract fabric and furniture industries, as well as to manufacture knitted-to-measure medical stockings and orthopedic products. Barmag AG, Germany, exhibited its line of spinning machines for polyester, nylon and polypropylene, as well as its texturing systems. Charlotte-based Dilo Inc. represented the nonwovens sector, displaying its Turbo Line for fine fleece nonwovens suitable for medical, hygienic and cosmetic applications. The line comprises Trutzschler opening and blending components, Spinnbau cards, the Spinnbau Turbo Unit air-laying system, Dilos Hyperpunch needling system and KTM Parotherm calendering.Christoph Burckhardt AG, Switzerland (Fi-Tech Inc.), showed pin rings and pin bars used in its perforating systems for nonwoven and woven fabrics, and films or laminates.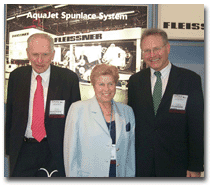 Left to right: Gerold Fleissner, president; Mrs. E. Fleissner; and Dipl. Ing. Alfred Watzl, vice president, FleissnerFleissner GmbHandCo., Germany, showcased production lines for nonwovens, including AquaJet spunlace lines and AquaTex enhancement technology. The company also showed nonwovens thermobonding lines and heat-setting lines, as well as production lines for the automobile sector, geotextiles, sanitary and hospital products, and other applications. Greensboro-based Rieter ICBT Greensboro Inc. presented fabrics produced using the Perfojet Perfobond and Jetlace 3000 spunlace systems, as well as fabrics made using both spunlace and spunbond technologies.The German company Eduard Kusters Maschinenfabrik GmbHandCo. KG (Zima Corp.), presented its extensive range of calenders, rolls and auxiliary equipment for nonwovens and technical textiles.Germany-based H. Hergeth GmbH exhibited its fiber bale solutions for the nonwovens and technical textile industries, as did Charlotte-based American Trutzschler. A+E Ungricht GmbHandCo. KG, Germany (Fi-Tech Inc.), a full-service engraver, showcased its design capabilities for the production of embossing and bonding rolls. Herbert Olbrich GmbHandCo. KG, Germany (Zima Corp.), had information on production machinery for wallpaper, technical fabrics, adhesive tapes, flooring and similar products. Jomar Softcorp International, Canada, gave attendees a chance to view its Enterprise+ebusiness (E+e) software, including solutions for preventive maintenance, supply chain and distribution logistics, and textile manufacturing. FibersandFinishesFlame-resistance properties have become essential in a wide range of nonwovens and technical textile applications, and were seen in many of the products presented by the exhibitors.Noveon Inc., Cleveland, displayed technological advances in flame retardancy and finishes for water, oil and soil repellency. The company also featured its urethane-based system for coating and laminating breathable fabrics, including Permax waterborne tie layers and coatings, and Estane® TPU resins for film.Minnetonka, Minn.-based Cargill Dow LLC presented its NatureWorks polylactide (PLA) fibers. Used in knitted and woven fabrics, as well as in nonwovens applications, the corn-based fibers have inherent flame-resistant properties.Non-halogenated flame retardants, as well as innovative barrier chemistry for protective apparel, bedding and upholstery, were shown by Glo-Tex International, Spartanburg. In conjunction with Outlast Technologies, Boulder, Co., Glo-Tex highlighted temperature-regulation coatings for bedding, apparel and other applications, as well as its renewable Halofresh/Haloshield antimicrobial chemistry for medical and filtration products. The Basofil® heat- and flame-resistant fibers business was recently purchased from BASF Corp. by McKinnon-Land-Moran LLC (MLM), Charlotte. These melamine fibers char rather than burn, and are used in home furnishing applications.Acordis Industrial Fibers Inc., The Netherlands, had samples of Diolen high-tenacity polyester yarns on hand. Diolen is suitable for a number of technical applications, including tires, mechanical rubber goods, broad and narrow fabrics, and ropes. Charlotte-based Clariant Corp. showcased Sanitized® Silver-Technology, a permanent antimicrobial solution that uses positive-charged silver in different kinds of plastics. Applications include household goods, transportation products, and hygienic and cleaning articles, among others.MillikenandCompany, LaGrange, Ga., highlighted its silver technology among others. AlphaSan® RC 5000, a zirconium phosphate-based ceramic ion-exchange antimicrobial resin containing silver, is designed to provide long-term protection when incorporated into textile products. Charlotte-based KoSa featured its technical filament and nonwovens, and industrial staple products, including its Type 785 marine finish product with abrasion resistance for high-performance deep-water mooring systems. Type 784 and 787 low-shrinkage products for the coated and laminated substrate market also were shown.Honeywell Performance Fibers, Kingston, N.Y., exhibited high-strength, lightweight Spectra® fibers, Securus® safety belt fibers and Beltec® fibers for tire cap ply reinforcement. Midland, Mich.-based Dow Chemical Co. highlighted the extended range of Covelle HF Weldable Films, which provide alternatives to PVC and other materials currently used by OEMs and trade welders in the technical textile, medical and high-performance packaging industries. FabricsandFinished ProductsExhibitors gave attendees a chance to view engineered and specialty products for a variety of end-uses.Xymid LLC, Chester, Va., displayed finished products made with Xymid Technology, which combines bulkable yarns with nonwoven substrates to produce LANX chemical protective apparel, Zyflex thermal sportgear and abrasion-resistant Wearforce composite fabrics. Union City, Ga.-based Southern Mills Inc. presented protective fabrics for the fire service industry, including: Zylon®/Technora®-blend Millenia; PBI/Kevlar®-blend Kombat; Nomex®/Kevlar-blend Advance; Basofil®/Kevlar-blend Barrage; and Defender, a fabric also made with Nomex.John BoyleandCo. Inc., Statesville, N.C. which specializes in custom fabric coating and finishing, wide-width multi-ply lamination and weft-inserted warp knitting displayed fabrics for use in canopies, awnings and marine fabric applications, among others. bluesign® technologies ag, Switzerland, made its TTNA debut with the presentation of its bluesign industry standard, a globally-recognized designation ensuring that all stages of apparel manufacture are as environmentally responsible as possible. For implementation, the company offers screening, an interdisciplinary network, and accompanying software.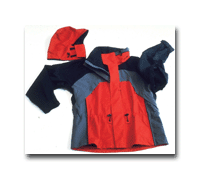 Apparel conforming to the bluesign standard is made using toxin-free materials and processes. Switzerland-based Schoeller Textil presented 3XDRY®, its new, ambivalent moisture treatment technology that produces a fast-drying, single-layer fabric that is hydrophobic on the surface and hydrophilic underneath. The company also showed its new NanoSphere® impregnating treatment to provide water- and dirt-resistance. NanoSphere meets the bluesign standard because it doesnt use halogens or heavy metals in its manufacturing process. Also shown were textiles incorporating Frisby Technologies ComforTemp® technology, which keeps the wearer at an ideal temperature level. Gehring Textiles Inc., Garden City Park, N.Y., is a producer of warp-knit fabrics for industrial, technical and apparel applications. Its Militex Inc. division presented D3, a spacer knit fabric made with three layers. Several D3 fabrics serve as neoprene substitutes in medical applications, such as braces and orthotic components. Rubans Gallant, France, exhibited technical webbings and tapes for multi-performance safety equipment, as well as webbings for textile membrane structures. New fabric technologies also were presented, including: lighting fabric using fiber optic filaments for garment and accessory decoration; and a microencapsulation technique ideal for the release of perfumes, mosquito repellents, and other active agents.Valley, Ala.-based Johnston Industries displayed several of its custom composite products for end-users, including a Haan device, which protects the head of a race-car driver; windmill blades; car seats; and body boards. The Future Of TechtextilRoland Bleinroth, president of Messe Frankfurt Inc., feels that the Techtextil show has surpassed expectations since its 2000 debut. No other platform in North America attracts attendees representing such a diversity of application areas. Techtextil North America offers an unparalleled platform to create new markets. We expect that the exhibitor base will continue to grow in diversity, he said.The next Techtextil North America will be held March 30-April 1, 2004, at the Cobb Galleria Centre in Atlanta. August 2002