By Richard G. Mansfield, Technical Editor A Hybrid IndustryHybrid nonwovens breed innovative products and solutions. Accelerated growth in nonwoven technologies and the use of nonwovens may look revolutionary to people not familiar with the history of the industry, but this growth is actually based more on evolution than revolution. Edward A. Vaughn, Ph.D., professor of textiles at Clemson University, was very early in recognizing nonwovens as a hybrid technology and its long-term growth potential as a business. In addition to his teaching activities in nonwovens, Vaughn created the Clemson Nonwovens Fabric Forum, a week-long course that has helped train thousands of people in the industry over the last 32 years.Vaughn created a table, Basic Nonwoven Manufacturing Systems, which shows how nonwoven manufacturing has become a hybrid of textile, paper and extrusion technologies (See Table 1).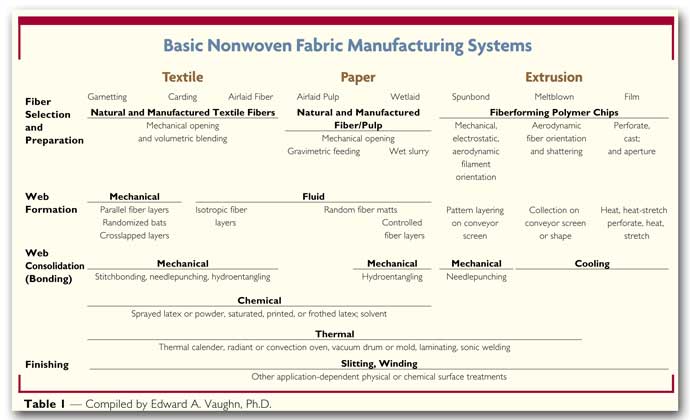 Early U.S. Activity In NonwovensOne of the earliest companies in the nonwovens business was Chicopee, then a division of the JohnsonandJohnson Co. In the mid-1940s, Chicopee developed its Masslinn nonwovens. Unlike many of the other early nonwoven producers, Chicopee was working with good-quality rayon staple fibers as well as cotton. Kendall Mills was another early entrant into the U.S. nonwovens business. Nonwovens product development activities continued to grow in the United States into the 1950s. Much of the early work with nonwovens was done by cotton mills, which were seeking to upgrade cotton waste into salable products such as furniture stuffing and wipes. Some of the mills then working with nonwoven technology were Avondale Mills, Callaway Mills, Dan River and WestPoint Manufacturing.The mid-1950s marked the successful development and marketing of Chicopees Handi-Wipes, one of the earliest identifiable nonwoven consumer products. During this time, Pellon Corp., owned by Freudenberg Nonwovens Group of Germany, became an important U.S. producer of nonwovens, specializing in inner linings and interfacings for the apparel trades. Up until the 1960s, the major technology for nonwovens was based on drylaid technology. The 1960s, however, saw the introduction of spunbonded technology and early activity on meltblown nonwovens. Needlepunch and wetlaid nonwoven technology and products also came into greater use. By the 1970s, the establishment of a trade association for nonwovens, the Association for the Nonwoven Fabrics Industry (INDA), provided a focal point for nonwovens as useful and distinct materials differentiated from conventional textile materials.The 1980s was a decade of increasing growth in nonwovens activity throughout the world, particularly in spunbonded and meltblown products. Factors influencing spunbonded and meltblown growth included the expiration of patents, which led to the development of turnkey plants from companies like Germany-based Reifenher, as well as lower-cost and higher-quality polyolefin and polyester resins.The 1990s marked the era of widespread acceptance of nonwovens as performance and problem-solving materials for industries as diverse as civil engineering and healthcare. Many of the products that came into use during this time were based on composites made by combining different types of nonwovens and/or nonwovens with other materials, such as films and foams. Some of these products and the companies that produce them are discussed in the ensuing pages. Composite Nonwovens In Geosynthetic ProductsIn the early 1970s, interest developed in using textile and related structures in construction and civil engineering applications, and the term geotextiles was coined for these products. Dr. Robert Koerner of the Drexel Institute of Technology describes geotextiles as products produced by assembling fibers into a flexible fabric by weaving, knitting or using nonwoven techniques to provide a porous water flow across and within their manufactured plane. Geotextiles always perform one of the following discrete functions: separation; reinforcement; filtration; drainage; or moisture barrier (when coated or impregnated).The term geotextiles is still used to describe these products, but a broader category of products is now encompassed by the term geosynthetics. One of the earliest fabrics used in civil engineering applications was woven from polypropylene monofilament yarns. Later, spunbonded and needlepunched polypropylene and polyester fabrics gained acceptance in geotextiles. The Geosynthetics Materials Association (GMA) represents all segments of the geosynthetic industry, including manufacturers as well as companies that test or supply materials and services to the industry. GMA is based in Roseville, Minn. As the use of geosynthetics grew, a number of composite fabrics were introduced to help solve problems in civil engineering and building construction. The Netherlands-based Enka, now a member of the Acordis group, which includes the Colbond Geosynthetics Group, introduced Enkadrain®, a foundation drainage system for vertical and horizontal use, in the mid-1970s. Enkadrain consists of a drainage core made up of highly compression-resistant, fused, entangled nylon monofilaments and a geotextile fabric bonded to one side or fully encapsulating the core.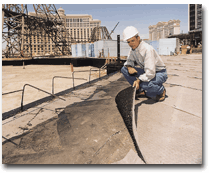 At the Las Vegas Paris Hotel, Colbond Inc.'s Enkadrain® geosynthetic drainage system was installed in a plaza deck. Photograph courtesy of Colbond Inc. Enkadrain works by relieving hydrostatic pressure from backfills abutting below-grade structures. It provides a lightweight alternative to traditional drainage materials such as gravel or sand blankets. The geotextile fabric allows water to seep into the core, while it holds back the adjacent soil and helps develop a natural soil filter where geotextile and soil meet. Water that reaches the resilient polymer core is conveyed to a perforated pipe, weep hole, or other discharge system. Major applications for Enkadrain include foundation and retaining walls, plaza decks, bridge abutments and planters. Enkadrain is lightweight and includes such features as the following:high discharge capacity;protection of waterproof coatings from damage during backfilling;formulation of an insulating layer between wall and soil;prevention of silting up of the collector drain;installation ease with negligible waste;use under all weather conditions, even when freezing;ease of cutting with a sharp knife or scissors; andresistance to rot and soil chemicals. Geosynthetic Clay LinersA geomembrane is a material used as a containment device for landfills, or for forming holding ponds to retain solid and liquid hazardous materials and prevent them from migrating and contaminating groundwater and streams.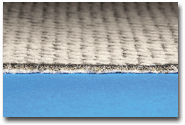 CETCO Lining Technologies manufactures geosynthetic clay liners, which protect geomembranes in landfills. Geomembranes are made from both reinforced and nonreinforced polymeric materials, including linear low-density polyethylene, high-density polyethylene, ethylene interpolymer alloys, chlorinated polyethylene, chlorosulfonated polyethylene, ethylene propylene diene monomer, polyvinyl chloride, polyurethane and elastomeric bitumen. The choice of the membrane material depends upon soil conditions and the properties of the materials that must be contained. The purpose of the geosynthetic clay liner (GCL) is to protect the geomembrane in case of damage to prevent leakage. The GCL is prefabricated and made by encapsulating bentonite clay between two or more layers of geotextiles, or by bonding the clay to one side of a geomembrane such as a sheet of high-density polyethylene. The geotextile-supported fabrics hold the clay in place by soluble adhesives or I-ties, by needlepunching that interlocks the fibers and locks in the clay, or by stitching thread to hold the clay between two fabric layers.The bentonite clay is a natural inorganic material with the ability to decrease hydraulic conductivity (it swells when it becomes wet and provides a sealing action). Bentonite is mined in Wyoming and other western states. It was formed through the reaction of volcanic ash and salt water over millions of years. Other major uses for bentonite are in cat litter and in drilling muds for the petroleum industry. A major supplier of the GCL product is CETCO Lining Technologies of Arlington Heights, Ill. Kimberly-Clark's Composite Nonwoven ProductsKimberly-Clark, Dallas, is active in developing products using composite nonwoven technologies. One of the early composites the company produced was Kaycel, a scrim-reinforced tissue laminate for applications such as patient examination gowns, caps and disposable jackets and aprons.In the late 1960s, Kimberly-Clark licensed spunbond technology from Lurgi of Germany and started production of spunbond polypropylene products. Subsequently, the company refined the original process and developed a large body of technology in the field. Later, Kimberly-Clark added meltblown technology and products, and the company has developed and patented technology and products for making composite nonwovens.The spunbond/meltblown/spunbond (SMS) products provide a breathable barrier that holds back fluids and allows air to pass through. Kimberly-Clarks SMS products are used for a wide range of products from automobile car covers to hospital/medical products, including surgical wrap.Surgical sterilization wrap has been one of the companys most successful and profitable composite nonwoven products. The surgical wrap material is used to provide sterilized kits of components used in the surgical operating room. The multilayered SMS surgical wrap allows sterilizing agents such as steam, ethylene oxide, hydrogen peroxide, and gas plasma to penetrate the wrap, yet maintain sterility.Kimberly-Clarks Coform process enables its polypropylene meltblown process to make composites that are useful for soaking up liquids and body fluids in hospitals in applications such as incontinence pads and fenestration areas on surgical drapes. Optional layers of meltblown, spunbond or film also can be laminated to the structure. The products can be converted by die-cutting, slitting, sewing or heat-sealing. Xymid LLCXymid LLC, Newark, Del., was formed October 1, 1998, and is made up of growing businesses that had been started by the DuPont Co. The majority ownership and management of the company is by an individual who had been responsible for the businesses (and others) when with DuPont.Xymid® is based on proprietary technologies not found in traditional wovens, knits or nonwovens. Some of the products are based on processes and products that were developed by DuPonts fibers, nonwovens and composite groups. The versatility of the techniques enables the inclusion of many different fibers into one fabric.Xymid Wearforce fabrics combine bulkable yarns such as Lycra® with polyester for comfort and nylon for durability. Wearforce G fabrics are Wearforce fabrics combined with a high-performance laminate to provide good gripping surface and high wear resistance. The composite fabrics are resin-impregnated for high abrasion resistance and moldability.Xymid LLCs Composite Products include print sleeves, composite tubing and containment sleeves. Print sleeves are made from polymeric materials and used in the flexographic printing industry. Printing plates are mounted onto the polymeric sleeves, which are then mounted onto print cylinders. The sleeve tightly grips the cylinder because of an interference fit between the two components. The sleeves are extremely durable, according to Xymid, and are easily installed or removed from the cylinders via air pressure. Composite tubing is used in the converting industry for lightweight air shafts, anilox rolls and plate cylinders. This product can weigh as little as one-fifth the weight of steel, and the relative stiffness is two to five times that of steel, Xymid claims. This factor results in improved vibration dampening and higher critical speeds, thus allowing equipment to run faster. Xymids containment sleeves are designed to prevent magnet liftoff due to centrifugal forces generated in high-speed permanent magnet electrical motors and generators. The high strength and light weight of this product provides superior performance over conventional metallic materials, according to Xymid. LANX Fabric Systems produces chemical and biological protective fabrics and apparel for military and emergency response applications. LANX Fabric Systems features a family of products that are adsorbent, durable, air-permeable and user-comfortable; and can be fire-resistant as required. The base adsorption technology uses polymerically encapsulated activated carbon for chemical protection.Zyflex LLC Thermal Sportgear® consists of a line of garments using a composite technology that had originally been developed by DuPont. These products are being sold by catalog and on-line, and include thermal shirts, thermal shorts, headbands, neckgaiters and balaclavas.
LANX Fabric Systems produces chemical and biological protective fabrics for military and emergency response applications.April 2002