By Richard G. Mansfield, Technical Editor Keeping It FreshAntimicrobial agents can be used in fibers and textiles to provide long-lasting protection against microbial growth. During World War II, when cotton fabrics were used extensively for tentage, tarpaulins and truck covers, these fabrics needed to be protected from rotting caused by microbial attack. This was particularly a problem in the South Pacific campaigns, where much of the fighting took place under jungle-like conditions. During the early 1940s, the U.S. Army Quartermaster Corps collected and compiled data on fungi, bacteria, yeast and algae isolated from textiles in tropical and subtropical areas throughout the world. Cotton duck, webbing and other military fabrics were treated with mixtures of chlorinated waxes, copper and antimony salts that stiffened the fabrics and gave them a peculiar odor. At that time, potential polluting effects of the application of these materials and toxicity-related issues were not a major consideration.After World War II, and as late as the mid- to late-1950s, fungicides used on cotton fabrics were compounds such as 8-hydroxyquinoline salts, copper naphthenate, copper ammonium fluoride and chlorinated phenols. As the government and industrial firms became more aware of the environmental and workplace hazards these compounds caused, alternative products were sought. A considerable amount of work was done by the Southern Regional Research Laboratory of the U.S. Department of Agriculture, the Institute of Textile Technology (ITT) and some of ITTs member mills to chemically modify cotton to improve its resistance to rotting and improve other properties by acetylation and cyanoethylation of cotton. These treatments had limited industry acceptance because of relatively high cost and loss of fabric strength in processing. In addition, the growing use of man-made fibers such as nylon, acrylics and polyester, which have inherent resistance to microbial decomposition, came into wider use to replace cotton in many industrial fabrics.In recent years, the emphasis has shifted from protecting textiles and textile products from microbial attack to protecting the environment and users of textile products from microbial attacks. Disinfectant materials provide a nearly instant but short-term solution to removing microbes, but antimicrobial agents are designed to provide longer-term solutions to eliminating microbes. Mechanisms And Methods For Protection In TextilesThe three mechanisms that can be applied to textiles in order to confer resistance to bacteria, fungi and mildew-producing fungi are: controlled release (Wakefield, Mass.-based AgION Technologies silver-based product); the regeneration principle (reactivation of antimicrobial by washing using a chlorine bleaching agent); and barrier or blocking action (triclosan products).For hydrophobic fibers like polypropylene, polyester and nylon, only the surface must be protected. Hydrophilic fibers such as cotton, rayon and lyocell require protection whenever moisture is present.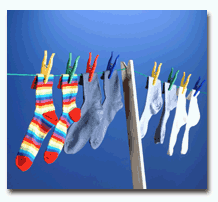 United Kingdom-based Avecia Ltd.s Reputex 20 antimicrobial can control the growth of microorganisms and the generation of odors when topically applied to textile products containing at least 35-percent cellulose (such as the socks pictured above). According to Jainwen Mao and Larry Murphy of Switzerland-based Ciba Specialty Chemicals Inc., an ideal antimicrobial for textiles would have to fulfill the following basic requirements:safety the antimicrobial must demonstrate low toxicity to the consumers and must not cause allergy or irritation to the skin;compatibility the product must present no negative influences to the textile properties or appearance and must be compatible with common textile processing; anddurability the antimicrobial efficacy has to be durable against repeated laundering.Two major classes of antimicrobial products for fibers and textiles include leachable and nonleachable types. Leachable types are not bonded to the fiber or substrate and can be removed by contact with moisture. Nonleachable types are chemically bonded to the fiber or substrate, or are incorporated within the polymer and on the polymer surface. Triclosan-Based ProductsOne of the most durable types of antimicrobial products is based on triclosan, a diphenyl ether (bis-phenyl) derivative, known as either 2,4,4 -trichloro-2-hydroxydiphenyl ether or 5-chloro-2-(2,4-dichlorophenoxy) phenol. Triclosan products have been used for more than 25 years in hospitals and personal care products such as antimicrobial soap, toothpaste and deodorants.Triclosan is manufactured by Ciba® under the trade name Irgaguard® and by several other manufacturers outside of the United States. Ciba makes several versions of its Irgaguard products for incorporation into hydrophobic fiber. These include Irgaguard B 1325 for polypropylene carpet fibers and Irgaguard A 2110 for polyolefin artificial turf fibers because of its ability to inhibit growth of algae. Other Irgaguard antimicrobials for use in polyolefin fibers and nonwovens include Irgaguard B 1000, B 1325, B 5000 and B 7000. Irgaguard products for use with nylon fibers are Irgaguard B 5000 and B 7000. Tinosan AM 100 and Tinosan CEL antimicrobials are also available from Ciba for use on nylon and polyester or blends of the two.Triclosan inhibits growth of microorganisms by using an electrochemical mode of action to penetrate and disrupt their cell walls. When the cell walls are penetrated, leakage of essential metabolites occurs and other cell functions are disabled, thereby preventing the organism from functioning or reproducing. The triclosan, when incorporated within a polymer, migrates to the surface, where it is bound. Because it is not water-soluble, it does not leach out, and it continuously inhibits the growth of bacteria in contact with the surface using barrier or blocking action.Microban® International Ltd., New York City, was formed in 1994 to develop markets for products that can provide antibacterial protection. The Microban organization developed a licensing and certification program, initially based on its expertise with triclosan. These and related products are compounded with colorants and other materials prior to the fiber extrusion or molding processes. Microban has licensed the use of its trademark and certification for bedding products and food service materials. Charlotte, N.C.-based Microban Products Co., a wholly-owned subsidiary of Microban International, is the global headquarters for research and development, manufacturing and distribution of Microban antimicrobial compounds. The company creates custom antimicrobials for specific end-uses.Fibers containing triclosan include polypropylene from Synthetic Industries, Chattanooga, Tenn., and acrylic fibers from Houston-based Sterling Chemicals and Cydsa, Mexico. Silicone-Based ProductsThe AEGIS Microbe-Shield® treatment is based on quaternary silicones like 3-trimethoxy-silylpropyl -dimethyloctadecyl ammonium chloride, which become affixed to the surface of the fibers.The quaternary silicones marketed by AEGIS Environmental Management, Midland, Mich., have been used successfully and safely by the textile industry since the mid-1970s. The products are manufactured by Dow Corning Corp., also based in Midland, and were first sold under the Sylgard® trademark. One of the first successful uses of this product was Dow Cornings 5700 Antimicrobial product for athletic socks produced by Greensboro, N.C.-based Burlington Industries Sock Division. In 1990, Dow Corning spun off its antimicrobial sales and applications as a privately held company now known as AEGIS Environmental Management. Dow Corning still supplies materials to this company. Products are licensed and sold under the AEGIS Microbe-Shield trademark. Its products are used in a number of consumer products including Odor Eaters®, Dr. Scholls® and Russell Fabrics activewear.Application of the silicone-based antimicrobials is usually made from aqueous solutions, and they can be applied by padding, spraying and foam finishing. Upon removal of the water, the nonvolatile silane forms covalent bonds with the fabric, which results in excellent durability.Nonwovens are a growing area for the use of the silicone-based antimicrobials. Applications include baby diapers, incontinence pads and hospital/surgical uses.Bioshield Technologies Inc., Norcross, Ga., supplies silicone-based antimicrobial products for a wide range of uses including textiles, household and institutional maintenance and cleaning. Products for the textile industry, based on Bioshield technology, are sold by Apollo Chemical Co., Burlington, N.C. Bioshield has been granted recent patents on organosilane chemistry.One of the consumer products Bioshield Technologies sells is the Bioshield CarpetandUpholstery Cleaner and Odor Eliminator. This product is claimed to remove tough stains including those from food spills and pet accidents. The company also sells another product, Odor Free®, which is used between cleanings to work on pet and tobacco odors.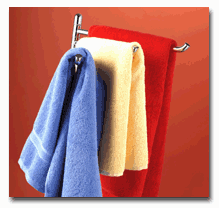 Avecia Purista antimicrobial keeps textile products fresher for longer. Towels treated with Purista are just as soft and absorbent as untreated ones, according to the company. Silver-Based ProductsAgION Technologies, formerly known as HealthShield Technologies, was formed in 1995. The company markets a silver-based antimicrobial with a unique delivery system.This antimicrobial is the result of 15 years of research by BF Technologies Japanese partner, Sinanen Co. Ltd. The AgION antimicrobial system is fully inorganic in nature. A zeolite mineral an aluminosilicate with a three-dimensional structure is used where silver is combined into the mineral structure by means of an ion-exchange reaction. Since the resulting material is ceramic in nature, it is extremely durable and can withstand temperatures as high as 800°C and still retain full antimicrobial effectiveness. This means that the AgION product can be incorporated into fibers made by melt spinning.The silver ions from the ceramic antimicrobial compound are released at a slow and steady, controlled rate. Ambient moisture in the air causes low-level release that effectively maintains an antimicrobial surface. As the humidity increases and the environment becomes ideal for bacterial growth, more silver is released yet there is a maximum release rate. So even under very wet conditions, the silver releases very slowly, ensuring long-term protection. The silver kills microbes by interacting with multiple binding sites on their surfaces.AgIONs antimicrobial is used for biomedical applications, consumer products and industrial applications. It can be used on the surface of a material or embedded directly in the material itself.The antimicrobial effectiveness of the AgION Technologies product has been confirmed against a variety of nosocomial airborne bacteria, yeast, fungi and molds, including escherichia coli (diarrhea), mycobacterium tuberculosis (tuberculosis) and streptococcus pyogenes (pharyngitis). Foss Manufacturings FossFibre® Antimicrobial FibersFoss Manufacturing Co. Inc., Hampton, N.H., is an innovative producer of nonwoven fabrics for automotive, industrial and consumer products (See Quality Fabric of The Month, TI, December 2001). The company has facilities in North America, Europe, Asia and Australia.FossFibre® incorporates AgION Technologies antimicrobials in its structure. Foss, however, has based its products on bicomponent fiber structures, which include a binder fiber as one of the components. To ensure the longevity and slow release of the agent, the active silver component is concentrated on the fiber surface and not in the core. The applications targeted for FossFibre are shown in Table 1.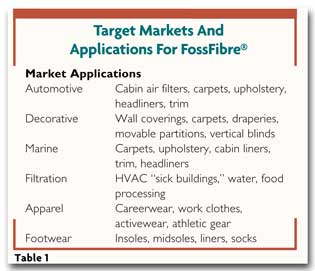 X-Static® Fiber From Noble Fiber TechnologiesNoble Fiber Technologies Inc., Clarks Summit, Pa., is a specialty processor of filament nylon yarns. The company has developed a proprietary process for incorporating metallic silver into a filament nylon base. The product has good acceptance for use in industrial products and in some U.S. FoodandDrug Administration (FDA)-approved medical products. It is registered with the U.S. Environmental Protection Agency (EPA) as an antimicrobial product.Some of the properties that Noble Fibers cites for X-Static are as follows:antimicrobial eliminates odor-causing bacteria and athletes foot fungus;all-natural safe and non-toxic, contains no chemicals or pesticides;heat-transferring cooler in the summer, warmer in the winter;anti-static; and therapeutic many health benefits due to conductive properties. Regulatory ConsiderationsU.S. regulatory laws consider any product used to control microbes a pesticide. The active ingredient in any antimicrobial must be registered with the EPA and be approved by the FDA. Whenever an antimicrobial claim is made for a product, it must be registered with the EPA for a specific use. In order to better understand the terminology used for antimicrobials and related products the reader can consult the Online Glossary on Antimicrobial Resistance. This glossary can be found at the website for the National Center for Infectious Diseases, Centers for Disease Control and Prevention: www.cdc.gov.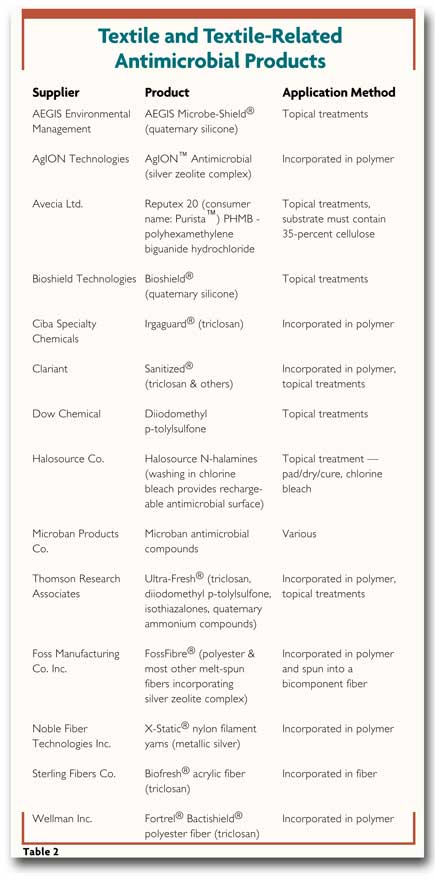 February 2002