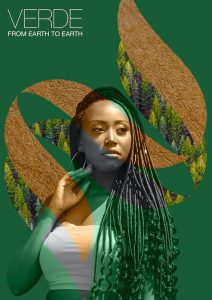 RIPATRANSONE, Italy — February 16, 2022 — Texon today announced the forthcoming launch of Texon Verde, a new bio-based, biodegradable material that is green by name and nature. Tailor made for use in the manufacture of sustainable, luxury fashion and homeware accessories, Texon Verde contains up to 90-percent bio-based content. Made from sustainably sourced (FSC®) cellulose wood pulp, plant-based binders and natural pigments, Texon Verde is the perfect choice for designers and brands looking to reduce the impact of their products on the planet.
Available from April onwards, Texon Verde combines Texon's technical know-how in cellulose-based textiles with its expertise in sustainability. The result is a material that is lightweight, easy to handle, tear resistant, wipeable — and optimized to offer significantly lower environmental impacts compared to conventional materials in its segment*.
Manufactured using only eco-friendly mechanical and chemical treatments, Texon Verde is free from any harmful substances. Through collaboration with leading sustainable industry partners, Texon Verde also utilises a plant-based binder system, which is compostable**.
Boyd Mulder, Group NPDI, Sustainability and Marketing director at Texon, said: "As the name implies, Texon Verde is green by name and green by nature — and we are really proud of its eco credentials. Biodegradable, and with a very high level of bio-content, it ticks all the right boxes for our customers in terms of environmental stewardship, and in delivering the high-end properties needed for premium and luxury fashion accessories and applications. This is an exciting addition to our portfolio of sustainable high performance materials and structural components — which are making a positive impact on an increasing number of consumer products worldwide."
Texon Verde is ideal for the manufacture of sustainable luxury bags, notebooks, home accessories and many other consumer products. When it hits the market in Q2, Texon Verde will be available in three colors – Bianco, Caramello and Nero.
Posted February 22, 2022
Source: Texon