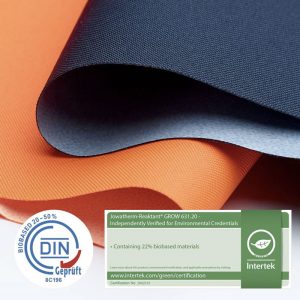 DETMOLD, Germany— November 23, 2020 — Jowat is presenting the latest addition to its Jowatherm-Reaktant® GROW product family — the first certified bio- based reactive polyurethane hot melt adhesive for textile laminating.
Only high-performance bio-based adhesives that have been optimized for the use in sustainable manufacturing processes are included in the "GROW" product line from Jowat. Jowatherm-Reaktant® GROW 631.20 is the first reactive PUR hot melt adhesive based on renewable raw materials available for laminating operations in the textile and automotive industry. The sustainable adhesive is marked with the labels "DIN geprüft biobasiert" (bio-based certification by the German Institute for Standardization, DIN) and "Green Leaf by Intertek".
The new adhesive boasts a certified renewable raw material content of over 20 percent and is characterized by a performance on par with its established conventional counterparts in the Jowat portfolio. The new bio- based adhesive fulfills high requirements for washing resistance and soft textile feel, can be processed at temperatures between 110 and 140 °C, and meets of course the specifications of ECO PASSPORT by OEKO- TEX® for the manufacture of products certified according to STANDARD 100 by OEKO-TEX. In addition, it can be easily integrated in existing processes.
It can be used for bonding operations in the manufacturing of mattresses and upholstery covers, medical textiles, protective clothing, building textiles, abrasive materials, cleaning textiles, and all established textile laminating applications in the automotive industry. Due to the renewable raw materials in its formulation, it is of particular interest for enterprises that want to reduce the use of fossil raw materials in their manufacturing processes step by step.
Jowatherm-Reaktant GROW 631.20 is the first in a series of reactive PUR hot melt adhesives with the "GROW" label to be presented by the adhesives manufacturer Jowat from Detmold. It marks an important step on the way towards more sustainable bonding processes.
Posted November 23, 2020
Source: Jowat SE