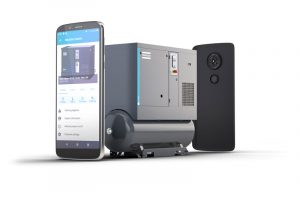 ROCKHILL, S.C. — November 23, 2020 — Remote monitoring and control for the G-range of compressors is now available with Atlas Copco's newest mobile app, AIRkeeper. Designed for G-ranges between 10-30 horsepower, users can control the compressor's operating parameters anytime, anywhere using a Bluetooth connection from either a smartphone or tablet.
The fully programmable AIRkeeper offers several features, including remote starting and stopping, adjusting the pressure band and even a leakage detection program to ensure the compressed air system is working optimally. Importantly, the real-time monitoring systems notifies the user immediately if the compressor needs attention. The app also stores all booklets and instruction guides needed for the compressor.
"AIRkeeper was designed specifically with the end-user in mind to provide easy, secure access to pivotal information," said Trey Ragsdale, vice president of industrial air for Atlas Copco Compressors in the U.S. "From the quick installation, intuitive interface, and customization features, AIRkeeper is truly the perfect companion for users who need to keep in-touch with their compressor, anytime and anywhere."
Installation and configuration of the mobile app can be done completely by the user through the intuitive setup process. The download and configuration of the app takes less than 10 minutes to complete and is available from the App Store and Google Play and works on both Apple and Android devices.
Posted November 23, 2020
Source: Atlas Copco