Germany-based staple spinning technology supplier Schlafhorst, a business unit of Saurer AG, Switzerland, reports its second-generation Zinser 351 2Impact FX compact spinning unit features a new air ducting system that offers a constant and turbulence-free airflow to ensure a consistent vacuum in the compacting unit, which in turn produces a uniformly bound fiber with guaranteed quality.
The company has modified the unit's self-cleaning compact apron to feature inclined perforated slots that increase the apron's life. Fiber residue and other dirt particles also are expelled out of the air openings at the apron's deflection points using the milling effect, eliminating the need for rigid screening drums that clog with fiber residue and require periodic cleaning.
Schlafhorst reports the unit is automatically self-cleaning, designed for optimal aerodynamics, and equipped with its own controlled vacuum unit. These features enable increased annual production of up to 7,700 kilograms of yarn.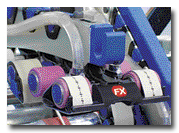 The compact apron on Schlafhorst's second-generation Zinser 351 2Impact FX features inclined perforation.
May/June 2014