Savio Macchine Tessili S.p.A., Italy, introduced its Polar/E Premium winder at two open houses last year — one in China at Savio's Jining plant, and a second in Turkey at the plant operated by its customer Kipas Holding A.S. Savio reports open house visitors were impressed with the winder and its unique performance features. Based on initial successes, the company has announced that later in 2014, it will release a Duo lot system version of the Polar/E Premium, which will allow two yarns with different specifications to be produced on the same machine.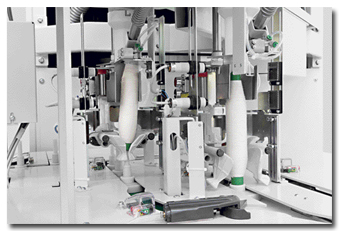 Savio's Polar/E Premium's double alternate bobbin loading system distributes bobbins between two peg loaders.
The Polar/E Premium introduced Savio's automatic continuous feeding technique to a high-capacity bobbin sorting system. With the freestanding winder, manufacturers that have older ring frames in less-than-perfect condition or ring frames with no automatic doffing device can achieve bobbin production efficiencies similar to those achieved by manufacturers that use linked equipment, Savio reports. The Polar/E Premium presents total freedom for machine layout and a fully automated feeding process, and was developed to process bobbins of any shape and quality with maximum efficiency.
Polar/E Premium features include: a twin sorting system that loads up to 72 spindles two-at-a-time; up to 3,000 bobbins-per-hour feeding capacity with a high-speed optical scanner to assess the profile of the bobbin; end-finder stations to handle bobbins with yarn reserve at the bottom of the tube; a backup station that manages all the bobbins rejected by spindles and end-finder stations and automatically prepares rejected bobbins for reuse; and a bobbin tube stripper to clean ring frame tubes for return to the spinning room ready to be used again.
March/April 2014