PROVIDENCE, R.I. — November 15, 2011 — A line of field replacement CO2 optics for most popular low
power lasers used for laser cutting fabrics, filter mats, canvas, and other synthetics is available
from Laser Research Optics of Providence, Rhode Island.
Laser Research CO2 Optics meet OEM and ISO-10110 specifications and are field replacements
that fit most popular lasers used for cutting clothing, textiles, and other synthetics.
Offered in 1/2″ to 1-1/2″ dia. sizes, with 1″ to 25″ focal lengths in 1/2″ increments, they are
available from stock and shipped within 24-hours to minimize laser production downtime.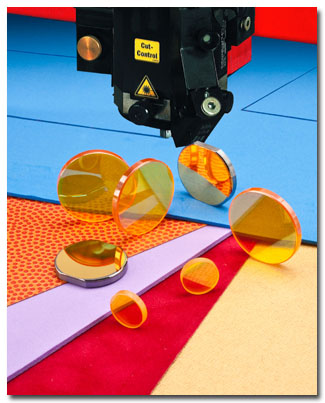 Laser Research Optics' CO2 Optics
Optimized for use at 10.6 µm, Laser Research CO2 Optics are suitable for Amada®, Bystronic®,
Cincinnati®, Mazak®, Mitsubishi®, Prime®, Strippit®, and Trumpf® lasers. Mirrors and
reflectors made from silicon, molybdenum, and copper from 2mm to 10mm thick are available in 1/2″
to 3″ dia. sizes.
Laser Research CO2 Optics are priced according to type, configuration, and quantity with
delivery from stock within 24-hours.
Posted on December 21, 2011
Source: Laser Research Optics/Venmark International