Fredericksburg,
Va.-based Kaeser Compressors Inc. now offers the Sigma Air Manager (SAM) for complete compressed
air system control including monitoring, sequencing and analyzing performance of almost any system.
According to the company, SAM can manage up to 16 compressors or vacuum pumps of various types and
brands, as well as dryers, drains and filters.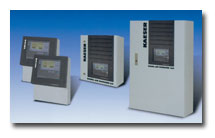 Using an industrial personal computer with Internet technology to enable remote control, SAM
provides service alerts and trending data for analysis of a plants operations. The standard Sigma
Air Control basic software performs these tasks, while optional Sigma Air Control plus software
enables data storage for reporting, system audits, control optimization and long-term trend
analysis.

September 2005