Georgetown, Ky.-based Linpac Materials Handling has introduced the ROPAK Hopper Bottom reusable,
collapsible container for dispensing granular-type materials such as powders, dry chemicals, bulk
solids, preforms and resins, among others. The container uses gravity and a simple-to-use chute to
dispense materials easily and accurately, according to the company. Secondary removal processes are
not necessary, which helps reduce labor, material handling and packaging costs.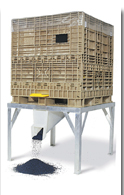 ROPAK Hopper Bottom collapsible container from Linpac Materials Handling
The Hopper Bottom features a steeply inclined, smooth interior and adjustable side-mounted
sliding gate. Constructed of high-density polyethylene, the container has a maximum weight capacity
of 2,000 pounds and comes in three sizes, with volume capacities ranging from 25.3 cubic feet (ft3)
to 34.8 ft3 to 37 ft3.Optional accessories include plastic liner bags, discharge inserts and side
discharge stands, and vibration units for automated dispensing.

March 2005