Catbridge
Machinery, Parsippany, N.J., has designed its Model 210 Surface Winder especially for narrow-width
slitting and rewinding of materials measuring up to 200 inches in width. The company reports the
winders state-of-the-art digital technology enables precise tension control, which allows
configuration of the system for materials ranging from low-tensile nonwovens to paper board. The
system includes a large color touch-screen interface to provide feedback and control.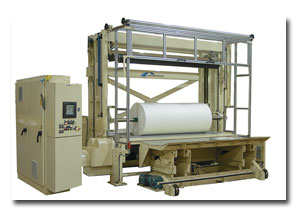 Model 210 Surface Winder from Catbridge Machinery
Features include integrated automatic knife positioning capabilities and full recipe storage
for quality control. Catbridge engineers can conduct remote monitoring and diagnosis via an
integrated network, which also enables them to provide system upgrades.

May 2004