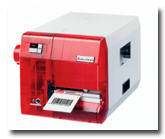 Philadelphia-based Avery Dennison Printer Systems Americas reports its TTX 674/675
high-resolution printers provide reliable operation in batch product ID labeling applications. The
TTX 674/675 features quick-change print heads, a 600-meter ribbon supply and a ribbon-saving
mechanism, and an extensive library containing popular bar codes and 17 standard and two scalable
fonts. A wide range of label materials and varieties can be processed, including cardboard,
plastic, self-adhesive and fanfold labels.The printer is available with an optional cutter/ stacker
and label rewinder for more efficient handling of printed labels.The TTX 674 has a 4.2-inch print
width, and the TTX 675 has a 5-inch print width. Both versions handle tag and label widths of up to
6.16 inches. Maximum print speed is 12 inches per second.

September 2002