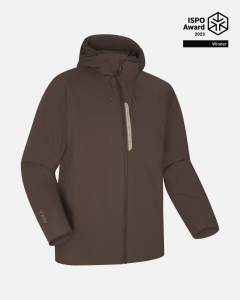 BOULDER, Colo. — November 16, 2023 — Paka®, an innovator in alpaca apparel, is thrilled to announce that their Apu Parka, the warmest ethically-insulated jacket on the market, won the ISPO award, the most prestigious international award in the outdoor industry. The Parka's alpaca-based PAKAFILL® insulation ' a sustainable, traceable and regenerative alternative to synthetics and down — made the jacket a standout.
The ISPO judging panel evaluates submissions paying particular attention to innovation and trend character, quality of workmanship, and functionality. They seek to award products that make sports more enjoyable, more accessible, safer or simply that motivate people to experience the world of sports in all its diversity.
The Apu Parka was called out for its advantages in innovation and functionality: the jacket features the first-ever alpaca fiber insulation with PAKAFILL, which keeps you safe and warm in extreme conditions down to -20 degrees F.
"This jacket has inner values!" the ISPO jury ruled on the Apu Parka. "Paka has processed alpaca wool into fleece in a patent-pending process, making the natural material accessible to outdoor fans. The special properties of alpaca wool make this jacket a universal favorite."
The Paka team spent years developing and refining PAKAFILL to revolutionize the way people stay warm outdoors. PAKAFILL tests warmer than all synthetic insulators on the market according to IDFL Laboratory and Institute, is naturally antibacterial and odor resistant, and stays warm even when wet. The insulation in the jacket offers warmth from renewable, natural fibers without harming any animals.
"We're humbled and honored to receive Paka's first ISPO Award," Kris Cody, Paka founder and CEO, said. "Since sewing the original jacket myself with raw alpaca fiber in Peru, we've been on a journey to change the outerwear industry. Our patent-pending alpaca insulation is proof that we can design alongside nature and still make the most functional products."
Posted: November 17, 2023
Source: Paka®