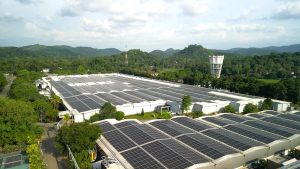 COLOMBO, Sri Lanka — November 1, 2023 — MAS Holdings has just announced the completion of the second phase of Project Photon, a roof mounted photovoltaic (PV) solar power project. This ambitious venture, initiated in 2017, has catapulted MAS Holdings to the forefront of the country's renewable energy industry, making it Sri Lanka's largest generator and supplier of roof-mounted solar energy. Before Project Photon, MAS Holdings had a modest 1.7 megawatts (MW) of solar capacity scattered across various locations. With the Group's commitment to fast track the switch to renewable energy, Project Photon was launched, adding 16 MW of solar power across 18 locations. Now, with the completion of Phase II, an additional 6 MW brings MAS' total solar generation capacity to a striking 23.7 MW. Breaking its own previous national record for solar power generation, MAS is solidifying its position as a company transforming Sri Lanka's renewable energy landscape.
To put the sheer scale of this mega project into perspective, a whopping 67,000 solar panels have been installed at MAS facilities. This solar capacity will save approximately 18,000 tons of carbon dioxide (CO2) each year and covers an area equivalent to 10 cricket grounds or the capacity to power approximately 34,000 households.
Moreover, Project Photon has set a national benchmark for solar generation roof rentals which is now replicated by most roof mounted solar investors in the country.
The execution of phase I constituted a nationally unprecedented multi-site project spanning the entire country, with an initial investment of $12.7 million. This was unchartered territory for an apparel company like MAS. With phase II, MAS has made a total investment of $16 million. Today, project Photon proudly has its own experienced solar engineering teams that can take on renewable energy projects of any scale anywhere in the world.
MAS Holdings' dedication to reducing emissions is part of its broader sustainability strategy, the MAS Plan for Change. It's a commitment that hints at further investments in renewable generation and storage solutions, solidifying their position as leaders in sustainable manufacturing.
The latest solar installation for Photon Phase II, was at the 165-acre MAS Fabric Park (MFP) in Thulhiriya, Sri Lanka's first privately owned Export Processing Zone. Expanding to 7MW, it is Sri Lanka's largest rooftop installation under one CEB account. The project helps reduce the park's electricity requirements by around 20 percent. The eco-friendly industrial park employing 12,000 people is known for its environmental practices, including an on-site 10-acre analog forest and waste upcycling plants.
Project Photon comes at a crucial juncture for Sri Lanka, which is currently experiencing an economic and energy crisis due to its heavy dependence on fossil fuels. With investments such as Project Photon, South Asia's largest apparel manufacturer, MAS, is on a journey to achieve its Science Based Targets initiatives (SBTi) in a bid to positively impact the apparel and textile industry, country, and the planet.
Posted: November 1, 2023
Source: MAS Holdings