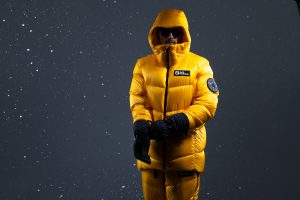 MONTEBELLO, Calif. — November 21, 2023 — After an extremely successful retail launch, ALLIED Feather + Down, industry leaders in high performance and hydrophobic down insulation, is proud to announce Jack Wolfskin, creators of innovative, eco-conscious outdoor apparel, equipment, and footwear will replace current, chemical-intensive hydrophobic down with ALLIED's ExpeDRY throughout their fall/winter 2024 hydrophobic down apparel line.
Poised to render current, chemical-intensive treatments obsolete, ExpeDRY down insulation is cleaner and better performing than all other hydrophobic down technologies. Created in partnership with FUZE Technologies and relying on gold particles permanently bonded to down plumes, ExpeDRY is PFAS-free, permanent, and far better at keeping insulated jackets dry and warm in any outdoor environment.
"Traditional hydrophobic chemistry works great when in direct contact with water droplets, and is effectively used on jacket shell material to keep water out," said Matthew Betcher, Creative Director with ALLIED. "However, for insulation, the needs are much different. In real world situations, the down in jackets more often comes into contact with humidity and water vapor, where traditional hydrophobic chemistry is far less efficient. ExpeDRY, however, actively works to keep this vapor from condensing, allowing it to evaporate more easily, keeping the entire insulation chamber, and the user, dryer and warmer."
Beyond performance, there is a very real environmental need to limit – or eliminate – the use of chemicals throughout the manufacturing process.
"As responsible manufacturers, we should all be looking to remove chemicals in our supply chain, whether they are currently considered "acceptable" or not," continues Betcher. "It wasn't all that long ago that PFAS chemicals were considered safe, and as environmental metrics change, going chemical-free is the only way to stay ahead."
As we explore how different chemicals drive climate change and adversely affect human health, it becomes clear that we still have a long way to go to create a sustainable future. According to new studies recently published by Scientific American, "in the European Union alone, some 80 percent of human-made chemicals have been used without testing for more than a decade." This lack of testing has allowed harmful chemicals to be used for years before their true, negative impacts are understood.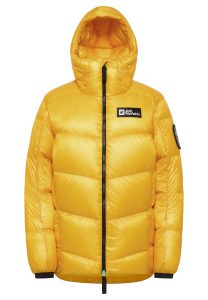 Starting in Fall 24, chemical-free ExpeDRY down can be found in several new Jack Wolfskin apparel lines, including the Discovery series and the urban Pioneer series.
"We are incredibly excited to work with brands like Jack Wolfskin to help reduce their overall chemical use while maintaining — or even increasing — performance in their technical products," added Betcher. "We look forward to driving this revolution and working with all of our partners towards this goal."
"The continuous development in the field of sustainability combined with performance and technological long-term solutions is an important task for our industry. We are very excited to be the first brand to bring the new eco-friendly technology in our new FW24 products to market," said Regina Goller, director Fabric & Trim Management, Jack Wolfskin.
Now available through manufacturers based across China, ExpeDRY is affordable, widely available, and ready to scale, giving brands an easy way to increase performance while reducing the environmental impacts associated with the reduction of chemical usage.
Posted: November 21, 2023
Source: ALLIED Feather + Down