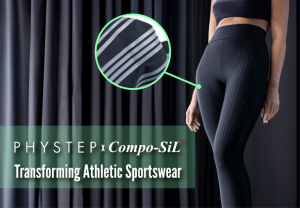 HSINCHU, Taiwan — October 24, 2023 — General Silicones (GS), a globally supplier of silicone products for over half a century, is thrilled to announce a transformative collaboration with Latvian activewear startup Phystep. By leveraging GS's state-of-the-art Compo-SiL® silicone rubber technology, Phystep is redefining the meaning of sportswear.
Harnessing customized silicone elastic film, Phystep ingeniously integrates kinesiology into their design protected* activewear. The groundbreaking Compo-SiL adhesion technology propels this audacious endeavor, affording athletes an unparalleled edge — a 20 percent increase in caloric burn with every stride or stretch with their leggings.
Elastic Film for Sportswear, Kinesiology Tape, and Therapy Applications
The Compo-SiL SR series combines resilience, stretchability, and skin-friendliness in a durable material that retains shape and elasticity — even after extended wear and multiple washes.
"We've tried dozens of materials, but only Compo-SiL SR series delivered the essential shape retention and skin-friendly features that set it apart in our industry," said Agris Muskars, founder of Phystep.
Ideal for both medical and athletic applications, the SR series is the go-to choice for companies aiming to enhance their products with kinesiology taping or elastic therapeutic tape. Its versatility makes it suitable for a wide range of end-products, from medical and sports protective gear to compression garments and supportive apparel like leggings and joint supports.
Seamlessly Integrating Compo-SiL® into Sportswear Manufacturing
The malleable properties of Compo-SiL's silicone rubber offer a vast canvas for innovation. The 1.4-meters-wide, easy-to-cut Compo-SiL sheets ship in rolls readily adaptable to existing roll-to-roll mass production. The patented technology of Compo-SiL allows the silicon rubber to bond firmly and securely to textile surfaces through standard PUR or hot melt adhesion.
"Typical heat transfer materials come in sizes of 1m x 0.5m, which limits resource optimization. The Compo-SiL SR series, however, is produced in a more accommodating 1.4-meter width, making it easier for us to cut efficiently," Muskars said.
A Call to Product Innovators Across Industries
Phystep's pioneering application showcases the extensive versatility of Compo-SiL technology. Beyond its current utility, Compo-SiL sheets can be enhanced to incorporate various value-additions like antibacterial and antiviral functionalities, flame resistance, and anti-slip properties. GS encourages forward-thinking product managers across sectors to seize this moment to catalyze innovation and diversification through Compo-SiL.
*Phy-TP® RCD 015022132-0001
Posted: October 24, 2023
Source: General Silicones (GS)