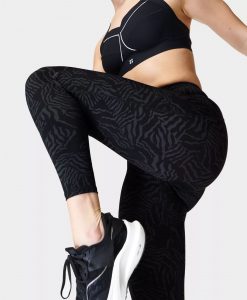 CARONNO PERTUSELLA, Italy  — October 11, 2023 — Sensitive® Fabrics present a series of new "Urban Jungle Soul" prints with Sweaty Betty's zero gravity leggings containing 41-percent LYCRA® SPORT fiber.
Designed for calibrated compression and total muscular activity during body movement, the zero gravity effect facilitates blood circulation and helps sculpt and reproportionalize shapes. Highly technical, they reshape the silhouette without constricting and support the muscles. Indeformable thanks to the fabric's high elastic memory, they are breathable, quick-drying and offer UV 50+ protection.
Sensitive Fabrics fit like a second skin, adapt naturally to the body and boast unique properties, from breathability to high heat exchange and avoid friction on the skin. They last over time, do not deform, and do not lose their consistency even after washing and frequent use. The high elastic memory provided by the patented textile construction helps one move safely in all weather conditions.
Thanks to their ultra-flat surface, Sensitive® Fabrics with LYCRA SPORT technology meet the highest standards of the sports world. Perfect for luxury activewear, they are fully reflected in the collections of the most innovative fashion brands for a contemporary style that enhances a sense of well-being and awareness.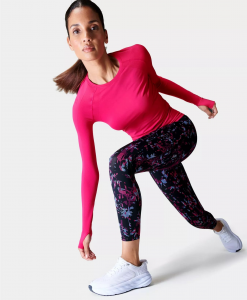 An exclusive patent of EUROJERSEY, Sensitive Fabrics are a product of excellence, made in Italy with a high percentage of LYCRA elastic fiber with a unique proposal of weight variants, prints and finishes.
The LYCRA SPORT certification, known and appreciated by brands in the sportswear world, uses the exclusive scientific method of measuring fabric performance, based on the combination of Comfort, Power and Energy indices. A valuable technology that makes it possible to identify the most suitable fabrics for making garments for different sports disciplines.
Sweaty Betty's leggings with Sensitive® Fabrics powered by LYCRA SPORT follow every single movement, proving to be super practical and trendy for all training sessions, even the most dynamic ones, such as the new Animal Flow discipline, a training program focusing mainly on floor work inspired by disciplines such as yoga, capoeira and dance with movements or positions typical of certain animals that are particularly suitable for improving balance, joint strength, muscle power and body awareness.
Advanced hi-tech design and excellent ergonomic properties are enhanced by LYCRA® SPORT certification, which ensures high compression strength and extraordinary comfort precisely when muscle containment and total freedom of movement are required during training.
Animal Flow's motor activity is accompanied by the important role of hydration thanks to the thermal flasks of Doctors Without Borders (MSF), made available by EUROJERSEY, which again this year supports MSF in the protection of women's health, such as obstetrical care, assistance to victims of sexual violence, prevention and treatment of cervical cancer.
For more than 50 years, MSF has been dedicated to saving lives: thanks to the support of donors such as EUROJERSEY, MSF provides free medical care and assistance, promotes the application of health protocols, strengthens medical care infrastructure and promotes the training of local health personnel. Actions that are made possible by the humanitarian workers who commit themselves concretely, day after day, in more than 70 countries around the world.
Posted: October 11, 2023
Source: EUROJERSEY