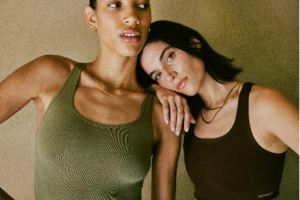 LOS ANGELES — October 16, 2023 — In a rapidly growing market expected to reach $242.5 billion by 2027, women expect a lot out of their activewear: comfort, performance technology, fashion-forward, and most recently, environment and social sustainability. These days, it's almost impossible to find a brand that checks every box, but that's all about to change.
Introducing REFORMER Pilates, a luxury seamless sportswear brand handmade in Los Angeles that is bringing fashion to everyday athleticwear. Focusing on high-end fabrics that form and flatter, REFORMER combines effortless luxury, performance innovation, and quiet sustainability to create a first-of-its-kind sportswear brand that refuses to compromise on quality, value, or principle.
As the only U.S. brand that crafts its own pieces domestically using an innovative seamless knitting process and over 75-percent recycled yarn, REFORMER is ultra-comfortable and practically free of unwanted seams, sewing, and stitching. Sustainability is woven through every facet of the brand — from its seamless knitting technology that eliminates waste to its business model that is saving jobs in L.A. and preserving the seamless knitting industry as a whole.
But it's important to note that REFORMER doesn't consider itself a sustainable brand; it just happens to make the most sustainable sportswear in North America because it's the right thing to do.
"I created REFORMER for a couple of reasons," stated Fashion Industry Veteran and Founder of REFORMER, Ryan Fisher. "I wanted to create a brand with integrity that was truly and authentically made in Los Angeles using innovative seamless knitting technology to create the most luxurious sportswear garments on the market. REFORMER was also inspired by my wife's need for a luxury activewear brand that had to check all of her boxes: comfort, performance, style, and sustainability. We're the only brand using Repreve yarn spun in America and knitting our garments in America. We are proudly handmade in Los Angeles."
Posted: October 16, 2023
Source: REFORMER Pilates Sportswear