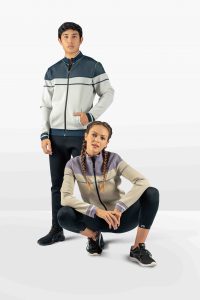 COLOMBO, Sri Lanka — October 15, 2023 — MAS Matrix, the diversified flat-knit apparel manufacturing facility under MAS Holdings, announced the launch of its latest product platform, MVTM. In a leap forward for flat knit products, the technology and product capability of the MVTM range, is poised to revolutionize athleisure wear. Crafted for the modern, fast-paced lifestyle, the collection offers a range of highly functional, versatile, and fashion-forward designs.
The core of MVTM lies in the fusion of movement and momentum, encapsulated in its abbreviation, MVTM. From a style perspective, these versatile pieces adapt to the diverse settings wearers move through in a day or in a season. When it comes to performance, MVTM products are meticulously engineered to offer freedom of movement and with unique zonal support. They offer a seamless blend of comfort and functional aesthetic, designed to meet the demands of modern living.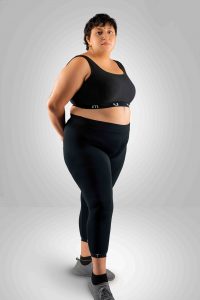 Speaking about the capability of Matrix, Palitha Liyanage, CEO of MAS Matrix said, "At Matrix, our journey is continuously evolving; starting with developing knitted uppers for footwear and transitioning to knit apparel and beyond. Today we are excited to share our full range of capabilities through the launch of MVTM. Our aim is to highlight beautifully crafted, innovative apparel that is also functional and sustainable."
In alignment with MAS Holdings' comprehensive sustainability strategy, the MAS Plan for Change, MAS Matrix is committed to offering more sustainable alternatives to its prospective customers. One standout feature of engineered knit is its ability to 'knit to shape,' significantly reducing pre-consumer waste by 18-22 percent compared to traditional cut and sew operations. Moreover, the MVTM collection boasts a commendable 77-percent utilization of raw materials sourced from sustainable, natural, and regenerative sources. These include recycled polyester, organic, Better Cotton Initiative-certified cotton, and bio-based fabrics like modal, Tencel, and hemp.
With 77 percent of the collection composed of recycled post-consumer waste or natural and regenerative fibers, MVTM exemplifies the commitment to a sustainable future.
MAS Matrix stands as the single largest investment made by MAS Holdings, housing 1000 Stoll flatbed machines offerings product categories which include athleisure wear, performance wear, essentials and knit components for global brands such as Nike, Decathlon, Gymshark, Lacoste, Victoria's Secret and Stoko. The launch of MVTM is a testament to MAS Matrix's unwavering commitment to innovation, sustainability, and providing consumers with apparel that seamlessly adapts to their dynamic lifestyles. With its unique blend of style, functionality, and eco-consciousness, MVTM is poised to make waves in the world of athleisure.
Posted: October 15, 2023
Source: MAS Holdings