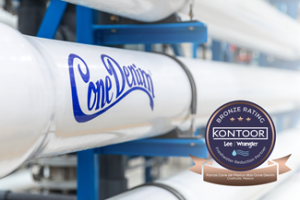 GREENSBORO, N.C. — October 5, 2023 — Cone Denim® has received the Bronze Status through Kontoor Brands Indigood® Program for freshwater savings. With this milestone, Cone Denim is the first textile mill in North America to be awarded the performance status of Bronze or better from the Indigood Program. The honor highlights Cone's commitment to freshwater conservation.
"This achievement is a tremendous honor for the Cone Denim team and reflects the hard work our employees have put into reaching this milestone," said Cone Denim President Steve Maggard. "The Indigood Program means a lot to Cone Denim and recognizes an achievement for our employees who work each day toward meeting our sustainability goals."
The Indigood Program is an initiative by Kontoor that highlights supply chain partners who are actively working to improve their freshwater footprint. Mills participating in the Indigood Program are third-party verified with Cone Denim receiving Kontoor Freshwater Savings – Bronze Status for water-savings achieved during a 2022-2023 timeline compared to a 2018 baseline.
"At Kontoor, we are focused on reducing the apparel industry's reliance on freshwater, but it is not a challenge we can solve alone," said Dhruv Agarwal, VP, Sustainability, Innovation, & Development, Kontoor Brands. "Through the Indigood Program, we are identifying, highlighting, and prioritizing the denim manufacturing facilities that are actively working to improve their freshwater footprint meeting the Indigood Program standards. We want to congratulate Cone Denim on their Bronze status under the Indigood Program and for committing to driving change in the industry."
Cone Denim's 2025 sustainability goals include a target to reduce water consumption by 25 percent. The company is on pace to meet this goal with 21.8 percent reported water savings at the end of 2022, which has been largely led by its Zero Liquid Discharge effluent treatment system at Cone Denim's Parras, Mexico mill. Installed in 2021, this state-of-the-art technology plays a key role in reducing the mill's total water footprint by saving up to 100 million gallons of water a year. The verification process included data from both 2022 and 2023.
The mill uses a customized ultrafiltration and reverse osmosis system to recycle the wastewater and treat 11,000 gallons per hour. The recovered water is recycled back into the denim manufacturing process, eliminating wastewater being discharged into the environment. Over one-third of Cone Denim's global denim fabric production is made using recycled water from this system.
Cone Denim continues to make significant investments in new technologies and advanced processes that lessen the environmental impact of its denim manufacturing operations. From sustainable finishing technologies to additional metering to measure water conservation efforts at its mills, Cone Denim is focused on a sustainable future.
"We cannot realize a sustainable future alone, nor can any company or denim brand," added Maggard. "Working collaboratively with customers like Kontoor on initiatives that achieve sustainability at scale is truly exciting. This is where we have the greatest opportunity to move the needle on sustainability and make true progress."
Posted: October 6, 2023
Source: Kontoor Brands, Inc.