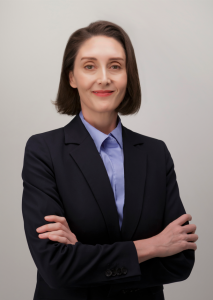 DÜSSELDORF — October 4, 2023 — C&A Europe appoints a new member of the European Leadership Team: Minette Bellingan is taking over the role of COO since October 2, 2023.
As COO, Minette will be responsible for the Fulfillment, Planning, Sourcing and Sustainability teams. Together, Minette and her teams will work to continually streamline and simplify operations, improving efficiency, increasing accountability and bringing these divisions into line with the industry's best practices. The role will be key to help the company's transition from a 'push' to a 'pull' operating model, with the clear objective of becoming a consumer-centric organization that is able to better match its offerings to consumer needs.
Minette has more than 25 years' experience in supply chain management, manufacturing, global sourcing and compliance, gained with some of the largest retailers in the world, both online and offline. She has led businesses in Asia, Europe and the United States, and wasbased in Asia for the last 12 years. She has also become a respected sustainability academic and was recently named an Industry Fellow of Cambridge University's Institute for Manufacturing.
Her latest position was at global e-commerce leader Coupang.com, Korea's largest consumer internet company, where she was part of the leadership team and also CEO of CPLB, a wholly owned subsidiary. Prior to this, Minette was director of Global Sourcing and Private Brands for Amazon.com, which involved leading product sourcing and supplier management, operations, quality and compliance for all its private brands and direct imports.
Giny Boer, CEO, C&A Europe, said: "An efficient and sustainable supply chain is essential to offer our customers high quality clothing at an affordable price. Minette will contribute greatly to the transformation of our company with her love of sustainability and extensive international experience in this area and supply chain management."
With this appointment, the C&A European Leadership Team is complete and fully equipped to continue pushing further on its successful growth plan to transform C&A Europe into a modern, omnichannel fashion retailer, under the leadership of Giny Boer, CEO.
Sharing the Leadership Team's common passion of making the C&A transformation a joint success, Minette will work alongside Betty Kiess, Chief Communications Officer; Birgit Kretschmer, Chief Financial Officer; Daniel Jimenez, Chief Merchandising Officer; Fareen Abdullah, Chief People & Culture Officer; and Jason Morgan, Chief Commercial Officer.
Posted: October 5, 2023
Source C&A Europe