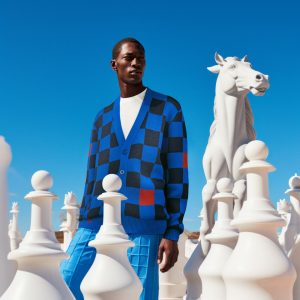 LONDON, UK — September 22, 2023 — Life's a game of strategy, and with Sheep Inc.'s latest reveal, the move is clear: fashion that thinks several moves ahead. Enter the 'Checkmate' cardigan, a tapestry of square chess patterns, as intelligent in design as it is in purpose. Crafted in vibrant pairings — Pink and Red, Brown and Almond, and Blue and Black — it's the perfect blend of style, strategy, and sustainability.
Materials
Not Just a Game of Looks. While the design might nod to the classic game of chess, the materials sing a song of tomorrow. Like every piece from Sheep Inc., the 'Checkmate' cardigan is crafted with the utmost dedication to quality and sustainability. Ultra-high quality essentials? Always. Sustainable impact? Checkmate.
Campaign inspiration
Every Move Counts. The campaign captures models, poised on a grand chessboard, merging the game's deliberation with fashion's flair. But there's more beneath the surface — it's a game of conscious choices, mirroring Sheep Inc.'s mission. Just as every move on the chessboard is critical, every choice in our wardrobe has an impact. The campaign subtly underscores the brand's dedication to blending timeless design with forward-thinking sustainability.
"Life's not just about the next move, but also the larger game at play," said Edzard & Michael. "Our 'Checkmate' cardigan symbolizes the balance between impeccable style and intentional choices. It's not just about wearing a statement but living one.
"Chess is a game of anticipation, strategy, and making the right moves for a sustainable outcome. Much like how we approach fashion at Sheep Inc. With the 'Checkmate' cardigan, we're underscoring the notion that great design and a sustainable ethos aren't opposing kings, but allies on the same board. Here's to making the right moves, in style and in substance."
Sustainability
While other brands harp on about their sustainability efforts without taking much action, Sheep Inc. is all about real change. As touched upon, the brand is completely carbon negative, meaning its manufacturing processes  must naturally store more CO2e than they produce. All wool comes exclusively from farms that adopt regenerative farming methods, which entails carefully managing the integration of flora and fauna on their land, to ensure natural carbon-sequestration that mitigates the traditional impact of farming. All garments are then produced in Europe by supply chain partners using renewable electricity, chlorine-free treatments and zero waste knitting processes for minimal environmental impact.
100% Visibility & your own sheep
Using proprietary supply chain technology, Sheep Inc. is able to track the entire provenance of each individual garment. From the person who hand-finished the knit, to the farm that provided the wool. Not only that, but they can also connect you with a sheep from the same farm the knit's wool is from. To bring you back in touch, each  garment comes with a (removable) NFC chip in its hem that with a simple tap of the phone gives digital access to the full creation story and your sheep!
Additional impact
In addition to its internal sustainable commitments, Sheep Inc. invests 3% of its revenue into biodiversity projects within its own supply chain. Each project is carefully selected using data research to analyse where focus and impact is most needed. As you can never have enough of a positive impact.
Posted: September 22, 2023
Source Sheep Inc.