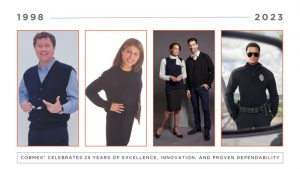 TORONTO — August 8, 2023 — Celebrating a significant milestone, COBMEX®, a uniform sweater manufacturer based in Toronto, proudly announces its 25th anniversary. For a quarter of a century, COBMEX has established itself as a trailblazer in the industry, designing exceptional knitwear, fostering innovation, and prioritizing customer satisfaction.
From its humble beginnings to becoming an international supplier, COBMEX has demonstrated its ability to adapt and thrive in a dynamic market. The company's commitment to global expansion is evident through its establishment of offices in Mexico, the United States, and the United Kingdom, strategically positioning itself to better serve its international clientele.
As COBMEX celebrates this momentous milestone, Founder and President Phil Newman expressed his gratitude, stating: "We are tremendously grateful to our loyal clients, dedicated employees, and supportive colleagues who have been instrumental in our success. This 25th anniversary is a testament to their trust, loyalty, and unwavering support throughout the years."
Since its incorporation in 1998, COBMEX has consistently pushed boundaries, setting new standards in the uniform industry. The company's proprietary Durapil™ and Durapil Ultra™ yarns showcased their unwavering commitment to creating premium low-pilling and long-lasting sweaters. These innovative yarns provided customers with unparalleled durability, performance, and comfort, reinforcing the company's reputation as a pioneer in the industry.
COBMEX's unwavering attention to customer satisfaction and product excellence has resulted in industry recognition, including the NAUMD Innovation Award. This accolade highlights the company's creativity and relentless pursuit of design excellence to deliver products that continuously exceed customer expectations.
COBMEX places a strong emphasis on responsible manufacturing and delivering products that meet the highest levels of safety and quality. This commitment is exemplified through the launch of their award-winning Contemporary Collection, which is Standard 100 by OEKO-TEX® certified. The OEKO-TEX STANDARD 100 label is recognized globally for ensuring that textiles are thoroughly tested for harmful substances. In addition, COBMEX reinforces its dedication to ethical and social compliance by exceeding the rigorous SMETA – 4 Pillar standards in its proprietary factories in Mexico and partner factories worldwide.
To commemorate this significant anniversary, COBMEX organized a special celebration that looked back on the remarkable journey of the past 25 years. Employees, industry colleagues, and partners shared memories about the company's growth and accomplishments, serving as a reminder of the dedication and hard work that has shaped COBMEX into the global leader it is today.
Looking ahead, Jon Edberg, partner and executive vice president, reflects on the future of COBMEX: "COBMEX remains committed to its vision of delivering knitwear and services that embody innovation, quality, and sustainability — globally. The company will continue to embrace new opportunities, foster strategic partnerships, and drive industry advancements, keeping its place at the forefront of the uniform sweater apparel market."
Posted August 8, 2023
Source: COBMEX®