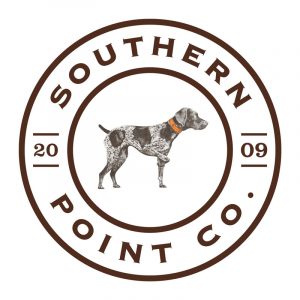 COLUMBUS, Ga.— June 26, 2023 — Midland Apparel LLC announces today the acquisition of the Southern Point Co. brand from Southern Point Co. LLC and its owner Brent Howell. A graduate of the University of Alabama, Howell founded Southern Point Co. in 2009. The brand quickly became popular throughout the Southeast and is well known for its classic, timeless designs and its distinct logo featuring a German Shorthair Pointer. After growing the company and surviving the COVID pandemic, Howell elected to sell the brand to a group of successful and experienced entrepreneurs.
Midland Apparel LLC was founded by three high school friends, brothers Keith and Greg Paul, and Scott Danford, all from Columbus, Ga. The Paul brothers are veterans of the solid waste and hauling business, having sold their bio-solid waste business in 2019. Danford is an apparel industry veteran, having held various positions at Realtree Outdoors since 2002. After successfully launching High Pines Outfitters, an outdoor lifestyle store, in Columbus in late 2022, the trio began to explore launching their own apparel brand. During their exploration, they learned about the Southern Point Co. opportunity and successfully closed on the transaction earlier this year.
"We are very excited about this acquisition," said Scott Danford, president of Midland Apparel. "We believe that Southern Point Co. is a very distinctive lifestyle brand and that we have a strategy that will enable us to further differentiate ourselves from the competition. We have big plans for the brand."
"When I founded Southern Point Co., I could not find a Southern lifestyle brand that made high-quality products that stood out from the crowd," Howell said. "We have been successful in growing the brand through hard work and determination. When I met Keith, Greg, and Scott, I felt they shared my vision and possessed the business acumen and financial strength to take Southern Point Co. to a new level. They have asked me to continue to help them with product design which I am happy to do. I think the future is very bright for Southern Point Co."
Howell will continue on with the Southern Point Co. brand serving as a consultant and product designer.
Posted: June 26, 2023
Source: Midland Apparel LLC