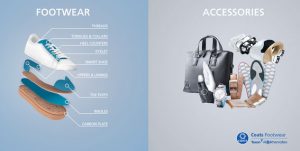 UXBRIDGE, England — June 29, 2023 — Coats Group Plc, an industrial thread manufacturer, has created a new footwear division following its acquisition of Texon and Rhenoflex in 2022. After a period of integration, the group has launched Coats Footwear — a global company offering footwear and accessories producers worldwide an increased range of components and material solutions, alongside unrivaled expertise, and technical know-how.
As independent companies, Coats, Texon and Rhenoflex were already established leaders in the development of sustainable and innovative performance materials for footwear and accessories applications. Now, united as one team — with a combined global footprint — Coats Footwear is ready to capitalize on its collective capabilities and drive forward a new wave of technologies that can improve the design, performance, comfort and environmental credentials of all kinds of footwear and consumer lifestyle accessories.
Bringing together the best of the three companies, Coats Footwear offers more than 450 different products for manufacturers to choose from. Unparalleled in its breadth, the range covers a vast array of materials and components needed to assemble a pair of shoes. From structural components to upper materials, and insoles and threads, customers can now benefit from more technologies than ever before. Ground-breaking brands available from a single supplier include Nylbond, CoatsKnit, EcoVerde, Powerflex, ProWeave, Rhenoprint™, Cyclea, Vogue and Verde. The business also has further sustainable innovations on the horizon, using its world-class research and development expertise to accelerate innovation in line with customers' needs and environmental, sustainability and governance (ESG) goals.
Coats Footwear's geographical reach is also greater. Part of a business that boasts a global workforce of more than 17,000 employees and a customer base of more than 34,000 companies, the division has staff and operations spanning more than 50 countries worldwide. Located closer to its customers, Coats Footwear can provide more on the ground support — deepening relationships with the companies it supplies — and help footwear and accessories brands bring new lines to market, faster, and with a smaller carbon footprint.
Coats Footwear Division CEO Frederic Verague said: "This is an exciting time for both the Coats Footwear team and our customers. With three world-class businesses now working seamlessly together, we are stepping up our offer — giving our customers an unequaled combination of expertise, innovation, and product choice. Through our technologically diverse product portfolio, we can cater to both current and future trends, setting new standards in the process. Where once we were competitors, we are now colleagues — united in our passion for turning customer ideas into a reality and accelerating sustainability. With the very best talent, textiles, and technologies now in place, our mission is clear: to connect talent, performance, and comfort for a better life."
Posted: June 30, 2023
Source: Coats Group Plc.