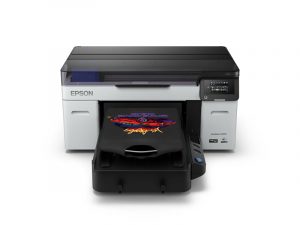 LOS ALAMITOS, Calif. — June 20, 2023 — Underscoring support for the growing textile and personalized products industry, Epson today announced the hybrid SureColor® F2270 for both direct-to-garment (DTG) and direct-to-film (DTFilm) printing. Designed to bring customized apparel to the market that holds true to the designer's vision, with minimal waste and environmental impact, the hybrid SureColor F2270 DTG printer incorporates DTFilm printing capabilities and goes beyond traditional garment printing and transfer to a wider variety of materials, including uniquely shaped items.
"The SureColor F2270 was purpose-built with an eye toward what's happening in the industry. Specifically, we wanted to address the needs of print shops transitioning from mass production to producing what's needed," said Tim Check, senior product manager, Professional Imaging, Epson America Inc. "With its ability to produce high quality output, with great reliability and consistency, print shops can now create premium quality products, designed to last years. This also results in less waste from the print process to the garment wearability."
Purpose-built for both DTG and DTFilm printing, the SureColor F2270 hybrid printer features a new PrecisionCore® MicroTFP printhead with Nozzle Verification Technology, and next-generation UltraChrome® DG2 ink to deliver vibrant colors and incredible detail at impressive speeds — up to 20-percent faster when printing on dark garments.* The printer's cartridge-free bulk ink pack system helps reduce ink replacement frequency. Featuring automatic garment thickness adjustment, it measures thickness using multiple sensors during the loading process to create a garment height profile and will automatically adjust the printhead and optimize print quality without user intervention to help increase productivity and ensure high-quality output.
Additional features designed to bring a new level of versatility and efficiency to the garment decorator, promotional product and e-commerce fulfillment industries, include:
Low maintenance – Dedicated cleaning solution channels and fabric head wiper system help reduce downtime;
Intuitive design – Flattop work surface can hold items; large 4.3-inch touchscreen interface with ergonomically placed control buttons;
Easy-to-use, quick-load platen – Assists with garment alignment and helps reduce loading times;
Intuitive, easy-to-learn workflow – Epson Garment Creator 2 software features improved processing time and high-resolution processing for exceptionally detailed and vibrant prints; and
Epson Cloud Solution PORT2 – Provides live production monitoring of your printer fleet status, including production rates and printer utilization.
"Ultimately, prints done right the first time saves times, money and physical resources, and that's the goal with the new SureColor F2270," said Check.
Availability
The SureColor F2270 will be available in August 2023 through Epson Authorized Professional Imaging Resellers with an estimated MSRP of $18,995. The printer is designed for use exclusively with Epson ink packs3 and includes a one-year limited warranty with on-site service. Extended service plans are available. For more information on Epson's direct-to-garment solutions, visit www.epson.com/dtg.
Posted: June 20, 2023
Source: Epson America, Inc.