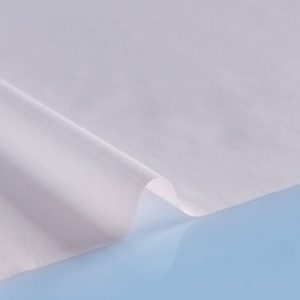 WEINHEIM, Germany — April 20, 2023 — Freudenberg Performance Materials Apparel  has reached another milestone in the development of sustainable textile solutions: A biodegradable fusible cotton shirt interlinings range 46xx. With this innovation, the world's leading specialist in woven, knitted, weft and nonwoven interlinings reduces its impact on the environment and supports customers in achieving their own sustainability objectives. In Asia, the series is marketed under the name 42xx series.
Approved biodegradability and non-toxicity by Hohenstein Laboratories
The new Freudenberg fusible interlinings for shirts and blouses have been developed in such a way that they are harmless to people and the environment at the end of their life cycle. Germany's independent Hohenstein Laboratories performed biodegradation tests on the 46xx series, based on the Hohenstein method which draws on DIN EN ISO 11721-2:2003 and EN ISO 846, and approved it as biodegradable and ecotoxicologically harmless. The tests by Hohenstein showed no negative effects on either the germination of garden cress nor on earthworms in the acute toxicity test.
Energy-saving interlining
The new biodegradable shirt interlinings also show great potential for energy saving, as the fusing can be performed at a low temperature. Concretely, this means that the resulting temperature between the upper fabric and the shirt interlining during fusing is only 127°C which is significantly lower than the commonly used temperature of 143°C. Certified to OEKO-TEX® STANDARD 100 Class II for successfully testing for no harmful substances, the shirt interlinings are washable at up to 40°C and resistant to dry cleaning. Freudenberg further proved in washing and degradability tests that the interlining is superior to conventional products in terms of quality. In addition, it has also passed all ecological-toxicological tests and is a perfect end-of-life cycle solution.
With this unique product range, the company makes its contribution to a more sustainable world, reducing its impact on the environment as well as supporting customers in achieving their own sustainability objectives.
Product details and availability
The products in range 46xx are available in Europe in the color white and the following weight classes: 4605 (90g/m2), 4616 (150g/m2) and 4618 (55g/m2). The adhesive of the interlinings consists of a 100-percent degradable bio-polymer. The shirt interlinings are ideal for reinforcing shirt and blouse collars, cuffs and plackets used in fashion, leisure and business clothing. The biodegradable, non-toxic interlinings are particularly important for labels with an ecologically sustainable claim.
Posted April 25, 2023
Source: Freudenberg Performance Materials