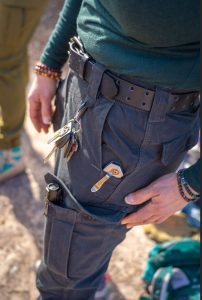 PORTLAND, Ore. — April 19, 2023 — Dovetail Workwear — the exclusively women's workwear apparel company based in Portland, Ore. — and CORDURA® Advanced Fabrics are excited to announce today the joint accolade for the Ready Set Cargo Pant comprised of CORDURA NYCO Fabric for winning the 2023 Innovation Award in the fabric category from the Network Association of Uniform Manufacturers & Distributors (NAUMD). The Innovation Awards annually celebrates industry excellence among companies in the Uniform, Image Apparel, Workwear, and Public Safety Equipment industries.
"This is what leveling the playing field for women on the job site looks like. We know that when she has uniform options that fit and perform, there's nothing that can stop her. For us at Dovetail Workwear, raising the bar starts with fabric innovation. The perfect combination of lightweight, breathability, and strength of this fabric creates built-in versatility for different working conditions," said Sara DeLuca, co-founder at Dovetail Workwear.
Dovetail Workwear's new Ready, Set Cargo Pant — a reimagined and stylish multi-pocketed micro ripstop pant designed with intuitive functionality for tough jobs among emergency medical technicians (EMTs), tactical teams, transportation specialists, outdoor adventurers, and beyond — is the third product collaboration with CORDURA Advanced Fabrics, and in partnership with Sapphire Finishing Mills Ltd. The pants are sewn in the same facility that mills the fabric; a process that involves a 90-percent women-powered workforce. Sapphire Finishing Mills Ltd. weaves together innovative technologies and traditional craftsmanship, with a robust women's empowerment program and a wraparound approach to sustainability.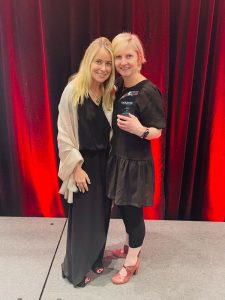 The Ready Set Cargo is a classic example of Dovetail Workwear's exemplary design and production process, in partnership with CORDURA Advanced Fabrics and Sapphire Finishing Mills Ltd., where women are involved every step of the way.
"We worked closely together, pooling ideas, and combining our strengths with both Dovetail and its consumers. This third Dovetail Workwear x CORDURA Advanced Fabrics product launch is yet again a testament to innovation through collaboration which has resulted in building durable relationships and products designed to withstand the test of time," explained Cindy McNaull, CORDURA brand business development director. "Whether hiking up a mountain to rescue a fallen climber, teaching survival tactics in an outdoor school, or handling airline cargo in rural Alaska – the women who tested Dovetail's new Ready Set Cargo need serious pants that stand up to the job.  This latest Sapphire Finishing Mills Ltd. CORDURA NYCO Fabric innovation offers ultimate endurance and lasting comfort."
Responsibly made, the Ready Set Cargo is not just beautifully sewn for optimal function and flattering fit but are virtually indestructible. Originally designed as a rugged, lightweight comfort solution for military combat uniforms, durable CORDURA NYCO Fabric is engineered with an intimate blend of INVISTA T420 nylon 6,6 staple fiber and delivers enhanced abrasion and tear resistance, 'No Melt No Drip**' performance and 3-5x slower flame spread* versus equivalent weight polyester/cotton.   CORDURA NYCO Fabric has a mission to create a new generation of durable, yet even lighter weight fabrics.
*Flame Spread rate as measured according to ISO 6941. 
**No Melt, No Drip Performance based on ASTM 6413.
Posted: April 24, 2023
Source: Dovetail Workwear