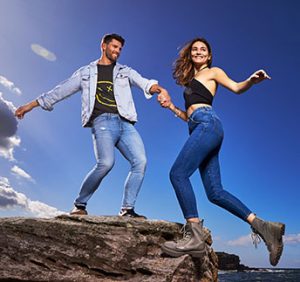 WILMINGTON, Del. — January 10, 2023 — The LYCRA Co., a global developer of durable and sustainable fiber and technology solutions for the apparel industry, today announced it is exhibiting innovations for denim and performance non-denim wovens at Kingpins New York, booth 8 in the yellow area. The invitation-only trade show takes place January 11-12 at Pier 36/Basketball City.
The LYCRA Co. is launching LYCRA® lastingFIT 2.0 technology at Kingpins, the latest innovation in its LYCRA XTRA LIFE™ brand portfolio. This technology delivers elevated functionality in a sustainable fiber made from recycled fibers. Benefits include a range of stretch levels, long-lasting recovery, a soft hand, and an authentic denim look.
"Consumers are concerned about reducing their environmental footprint and are increasingly investing in higher quality, more durable garments," said Ebru Ozaydin, The LYCRA Co.'s strategic marketing director, denim and ready-to-wear. "Longer-lasting fibers can contribute to extended garment wear life so we are pleased to showcase fabrics and samples featuring LYCRA lastingFIT 2.0 technology that provide durability and sustainable benefits which are so valued in today's marketplace."
The LYCRA Co. is also responding to another important consumer need with LYCRA ADAPTIV fiber, a patent- pending polymer that offers consumers a liberating wearing experience with its soft and easy stretch that adapts to meet the wearer's functional needs, whether at rest or in motion. Jeans and woven pants made with this spandex fiber offer a wider fit window to accommodate different genders and body shapes and enable inclusive sizing.
"Digital fashion has inspired our storytelling about LYCRA ADAPTIV fiber for wovens in our booth," Ozaydin said. "Computer-generated imagery and physical garments are brought together to demonstrate how revolutionary LYCRA ADAPTIV fiber is for denim. We're showing brands and retailers how virtual assets can help them connect with consumers — especially tech-savvy Gen Z — while also informing them about the key fiber benefits to drive sales."
On display at the show include mill collaborations with Naveena Denim and Sapphire Finishing that feature LYCRA lastingFIT 2.0 technology. New Resolutions, The LYCRA Co.'s collaborative collection with Naveena Denim, explores new solutions to design future-fit sustainable denim. The company's collaboration with Sapphire Finishing Mills Limited, Crossroads, is inspired by the great outdoors and future utility trends. This collaboration includes LYCRA EcoMade fiber, and focuses on timeless designs that offer performance, versatility, longevity, and thermal comfort.
Posted: January 10, 2023
Source: The LYCRA Co.