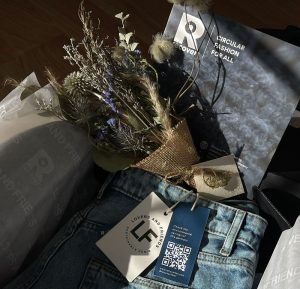 LOS ANGELES — October 14, 2021 — Global fashion retailer REVOLVE has partnered with Recover™, leading producer in recycled cotton fiber, to introduce a sustainable denim collection with REVOLVE-owned brand Lovers and Friends.
Recover is a textile fiber producer that has been pioneering sustainable materials and recycling since 1947. The company recycles post-industrial and post-consumer cotton waste, replacing the need to cultivate cotton, dramatically reducing water waste, limiting the use of dyes through its RColorBlend system, and reducing textile landfill waste.
Launched today, the range features 14 styles of jeans, each produced with a minimum of 15-percent Recover recycled cotton fiber made from post-consumer denim.
The pairing of the valuable resources Recover provides with Lovers and Friends underscores Revolve's commitment to sustainable fashion, and leading the change towards a more circular, and enduring fashion system.
"Revolve has a responsibility to contribute positively to the longevity of our industry and ecosystem, and for us, this process begins at home. We have worked with thousands of brands and suppliers, and Recover is unparalleled in its expertise and long-term focus. We are proud to partner with this multi-generation, family-owned business to deliver the strongest messaging and product to our consumers with one of our most recognizable owned brands, Lovers and Friends," said Michael Mente, co-CEO and co-founder REVOLVE Group.
"It is great to launch this sustainable collection today with such an iconic American brand and denim product. By incorporating Recover´s lowest-impact, highest-quality recycled fiber into the Lovers and Friends denim line we have created a strong collaboration that is helping to bring sustainable fashion closer to the consumer. Recover™ aims to scale its recycled cotton fiber production to help more brands meet their sustainable goals and achieve circular fashion for all," said Alfredo Ferre, Recover CEO.
Recover has already supplied its recycled cotton and cotton blend fibers to illustrious brands such as Wrangler, H&M Group, Tommy Hilfiger, G-Star, The North Face, Billabong and Primark among many others during its rich history.
"Recover is building a strong ingredient brand, with the mission to dramatically enhance the environmental value of the garment for the final customer. We've taken special care in the way we inform them about the impact of this collection in collaboration with REVOLVE. The hang tag includes a QR code that leads to more information about the environmental savings, such as water, and compares them to day-to-day activities, like the number of showers, to make them more understandable," said Boris Mercier, marketing director, Recover
By adding Revolve and Lovers and Friends to its portfolio, Recover moves one step closer to achieving its mission of "circular fashion for all".
Price Range: $128-$158.
Posted October 18, 2021
Source: Recover™