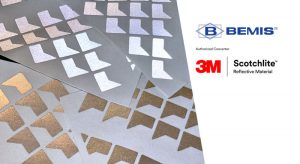 SHIRLEY, Mass. — June 2, 2021 — Bemis Associates — bonding innovation and design partner to the world's leading technical, performance, luxury, and lifestyle brands — has just announced a partnership with one of the most recognized brands in applied science.
This partnership designates Bemis as an authorized distributor and converter of 3M™ Scotchlite™ Reflective Material. As a result, customers can continue to work directly with Bemis to incorporate 3M Scotchlite Reflective Material into their finished garments and accessories. This also means customers have the opportunity to feature 3M Scotchlite Reflective Material branding on their products' final hangtags.
3M is a pioneer in developing the science behind retroreflection and has been advancing the technology in new and groundbreaking ways for more than 80 years. They have held a longstanding and leading role in reflective solutions. Both companies have demonstrated a proven track record in developing reflective materials that offer brightness, durability, and high quality. "This partnership made perfect sense to us," said Mike Johansen, president, Bemis Associates. "Combining our engineering and design expertise in the adhesive arena with 3M's worldwide technical, marketing, and lab support in reflective materials allows us to offer customers a solution that is unparalleled," he said.
Behind the Science
3M's retroreflectivity helps the eye perceive objects in low-light conditions when illuminated by a light source. In more scientific terms, retroreflection occurs when light rays are returned in the direction from which they came. Retroreflective materials appear brightest to an observer located near the original light source. Since very little light is scattered when the light is returned, retroreflective materials enhance the contrast of the wearer for an observer located near the original light source.
"The collaboration between 3M and Bemis makes the most of the natural synergy between our companies, providing comprehensive solutions to a broader base of activewear customers," said Malou Marasigan, global business director and APAC Area Leader, Scotchlite Reflective Materials. "3M Scotchlite reflective materials and Bemis' adhesive portfolio present a differentiated offering, enabling innovation and creativity in designs while helping keep consumers visible under low-light conditions."
Posted June 2, 2021
Source: Bemis Associates