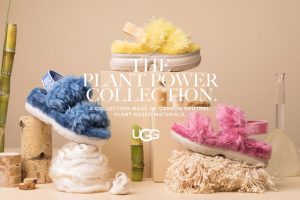 SANTA BARBARA, Calif. — March 11, 2021 — Southern California-based global lifestyle brand UGG® — a division of Deckers Brands — recognizes the importance of protecting the planet for future generations. Building on FEEL GOOD., the brand's sustainability platform launched in October 2020 to articulate its long-term goals and commitment to people and the planet. To commemorate this important program, UGG proudly introduces the dual-gender Plant Power Collection. Addressing the issue of carbon emissions, a key driver of global warming that threatens our oceans, atmosphere, and overall way of life, the collection features three footwear styles thoughtfully crafted with carbon-neutral, plant-based materials.
"At UGG, we are committed to doing our part to combat climate change," said Andrea O'Donnell, President, UGG & Koolaburra by UGG of Deckers Brands. "Our design team took inspiration from our iconic styles and created new silhouettes made from carbon-neutral, plant-based materials. The resulting Plant Power Collection tells a story about what is possible, and it is an exciting step in on our journey towards a more sustainable future."
"Lenzing is proud to collaborate with UGG on their UGGplush™ technology using TENCEL™ branded Lyocell fibers," said Robert van de Kerkhof, chief commercial officer, Lenzing AG. "Our sustainable wood-based fibers are an excellent choice for the environment, and a natural choice for products that require comfort and breathability. We are committed to supporting brands like UGG who have set sustainable commitments that support both people and the planet."
Recreating the iconic look and feel of the UGG brand's ever-popular fluff franchise, the Fluff Sugar Platform and Fluff Sugar Sandal feature eye-catching design elements, platform outsoles, and responsibly sourced materials. Derived from renewable sugarcane, the SugarSole™ foam outsole allows for reduced dependency on fossil fuels by replacing petroleum-based materials; sugarcane is a rainwater-dependent resource that removes CO2 from the atmosphere and does not require irrigation. The feeling of UGG comes from fluff made with plant-based TENCEL-branded lyocell fibers, made of wood pulp converted into regenerated cellulosic fibers sourced from responsibly harvested trees. The trees are grown in sustainably managed forests that are certified by the Forest Stewardship Council (FSC) and the Programme for the Endorsement of Forest Certification (PEFC), two leading organizations promoting sustainable forest management.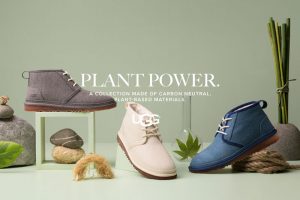 The dual-gender Neumel Natural also adapts the iconic look and feel of the brand's best-selling Neumel chukka with plant-based materials like cozy lining with TENCEL Lyocell. Its handcrafted, small-batch soles are made of LACTAE HEVEA® latex harvested from the Hevea rubber tree. The Neumel Natural's upper is woven from an environmentally-preferred blend of 55-percent cotton and 45-percent hemp.
Future Intent
The Plant Power Collection is just the beginning. UGG is continually working to make its products better for both consumers and the planet by seeking and using innovative materials, and has targets to increase its use of recycled, repurposed, regenerated (plant-based), renewable (bio-based), and certified fibers by 35 percent by 2027.
The brand's most used textile fiber is repurposed wool, which is harvested from signature Twinface sheepskin then woven into UGGpure™ proprietary technology. UGGpure is a more responsible material because it reduces the use of virgin wool, uses less water, less energy, and emits less CO2 when compared to virgin market wool.
UGG has also created UGGplush™, which combines the brand's signature UGGpure wool with TENCEL Lyocell woven into a recycled polyester backing. The brand plans to increase the use of TENCEL Lyocell fiber as it furthers its commitment to continue to increase the use of more sustainable materials whenever possible.
Packaging
Through reduction and adaptation of its packaging, UGG has so far saved more than 1,716,603 trees. As an extension of its efforts to reduce excess packaging, UGG will ship styles from the Plant Power Collection in their own containers to eliminate further layers of postal packaging. Material information will be printed directly onto the FSC-certified tissue paper rather than an insert card, decreasing the total amount of paper used.
Posted March 11, 2021
Source: UGG