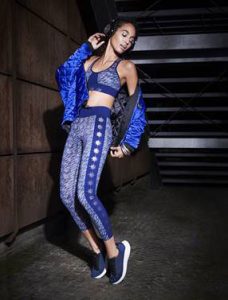 CARONNO PERTUSELLA, Italy — March 4, 2021 — With "Free Up The Vibes", Sensitive® Fabrics by EUROJERSEY puts the spotlight on the multiple performances of activewear garments that caress the silhouette and facilitate every movement, without forgetting the more glamorous aspects of outfits that are far too cool to be worn only for working out.
Designed to satisfy the highest standards of the sports world, Sensitive Fabrics with Lycra® SPORT technology have proved to be the perfect solution for today's luxury activewear. Lifestyles have changed and formal dress has given way to clothes that are styled to suit the wearer's body shape, needs and desires. An emerging trend that is fully reflected in the collections of the most innovative fashion brands, which have identified a perfect partner in the offering of Sensitive Fabrics, certified with cutting edge Lycra Sport technology.
Patented by EUROJERSEY, Sensitive Fabrics is an all-Italian product of excellence, characterized by an exclusive textile construction, a high percentage of Lycra elastic fiber and a unique offering of weight variants, prints and finishing processes. Lycra Sport certification, widely known and appreciated by sportswear brands, applies an exclusive scientific method for rating fabric performance, based on a combination of Comfort, Power and Energy indicators. A valuable technology, also for the most innovative fashion creations.
Posted March 4, 2021
Source: EUROJERSEY