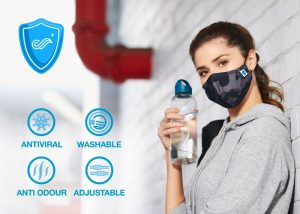 ADLINGTON, England — November 23, 2020 — Carrington Textiles has launched its new Carrington Mask — a face covering that's reusable, machine washable, adjustable and powered with a treatment that combines an advanced silver and a vesicle technology to inhibit growth and persistence of microorganisms on the fabric surface.
With this new product, Carrington Textiles showcases its 130 years' experience in manufacturing specialized fabrics for different sectors by offering a product that not only delivers outstanding antimicrobial and launderability performance, but also provides a great variety of fun and fashionable colors and prints to stand out in a market where most treated face masks look the same.
The fabric for the new Carrington Mask has been enhanced with HeiQ Viroblock, a treatment that's added at the end of the manufacturing process. The technology combines engineered antimicrobial silver technology and uses vesicle technology as a booster for robust and rapid efficacy. It also kills the bacteria that cause unpleasant odors.
As stated by the Swiss company, HeiQ Viroblock technology has been independently tested effective against SARS-CoV-2**, the COVID-19 causing virus, and is proven to deactivate viruses in 5 minutes***.  The treatment is EU REACH and US FIFRA compliant, OEKOTEX® certified, ZDHC and bluesign® homologized. Treated textile articles are compliant with EU BPR and US EPA.
The treatment withstands up to 30 gentle washes at 60°C which makes the Carrington Mask a reusable face covering for the benefit of the environment. Using 100-percent cosmetic grade ingredients, this technology is also non-toxic, non-sensitizing, non-irritant and hypoallergenic.
In terms of design, the Carrington Mask has been carefully created with comfort and everyday use in mind, featuring a soft cotton/lycra fabric that due to its elasticity fits perfectly to any face shape, as well as including adjustable ear loops for extra comfort.
These new antimicrobial treated face masks by Carrington Textiles are available in the company's brand new online shop and they come in 12 different models, including six Christmas prints excellent for this season, two camouflage prints for a 'cool' look, as well as four unicolor face masks for those looking for a more classic style.
As a way to continue the manufacturer's CSR activities, Carrington Textiles is providing 10 percent of all sales to Lancashire-based charities Derian House Children's Hospice and Inspire Youth Zone.
The Carrington Mask is not intended for medical use and it does not substitute other recommended measures to stop the community spread of any viruses including social distancing, washing your hands.
*This Mask is treated with a biocide to protect it from microbes and germs. Active ingredient: silver chloride
**M.J. (2020) Report on Viral Stability and Persistence of SARS-CoV-2 on Treated Material. Doherty Institute for Infection and Immunity, Australia
***Data provided by HeiQ based on testing conducted on other materials
HEIQ, VIROBLOCK and HEIQ VIROBLOCK are trademark(s) or registered trademark(s) and properties of HeiQ Materials AG.
Posted November 23, 2020
Source: Carrington Textiles