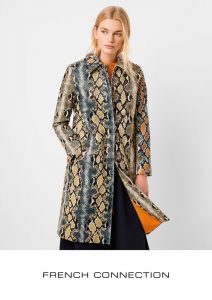 TOLLAND, Conn. — January 21, 2020 — The trend around digital transformation in fashion has been at the forefront of the industry for a few years and companies who are transforming are seeing the payoff with data visibility. "Our team needed a cloud-based solution to simplify IT processes and YuniquePLM® will enable data integration with our current infrastructure," said Stuart Hart, head of IT, French Connection.
French Connection offers design-led clothing that's cut with sophistication and quality in mind. The brand ranges from investment-worthy French Connection clothing to basic jeans and t-shirts, with a focus on a premium aesthetic.
Adding YuniquePLM to French Connection's product development process, that already employs the AccuMark® family of design room solutions, will further transform their processes and help reduce time to market for their clothing lines.
"Upgrading French Connection to YuniquePLM will allow them to scale their business quickly and effortlessly," said Michael Lock, Vice President of Gerber's Global Software Sales. "The solution will allow French Connection to reduce costs by simplifying integration across the company."
Posted January 28, 2020
Source:  Gerber Technology