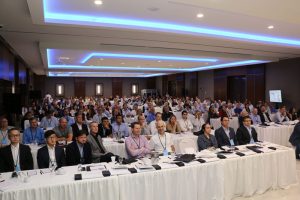 ATLANTA — December 3, 2018 — The Apparel Summit of the Americas was held November 27-29, 2018, in San Pedro Sula, Honduras. The conference was created and hosted by the Americas Apparel Producers' Network (AAPN).
The event's attendance was 250 executives from 125 organizations. This number does not include more than 40 volunteers from AAPN member and local organizations plus other officials who visited.
The complex event required travel from and to the airport to three hotels, to one reception, to the convention center, to two factory tours and to an evening dinner and fashion show. This meeting involved more planning, logistics and people than any event in the AAPN's 37-year history in the apparel industry.
Most importantly, 18 brands and retailers sent high level executives to see the investments made in Honduras' textile industry first hand. One major integrated producer committed to supplying several global brands sent 9 of their most senior executives.
A welcoming reception was hosted November 27 at the Intercontinental Hotel. This kickoff was not only a great opportunity for friends and colleagues to catch up, but also an inviting venue to make new friends and business partners.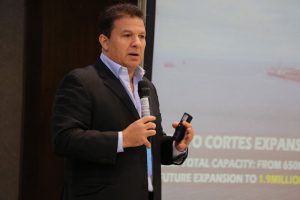 At 8 a.m. on November 28, attendees convened at the Copantl Convention Center. The event was opened by Jesus "Chuy" Canahuati, president of Elcatex. Canahuati promoted Honduras as the number one destination for U.S. yarn exports globally totaling more than $1 billion annually and as the number one country of origin for U.S. imports of cotton T-Shirts and sweatshirts.
The new strategic textile investments in Honduras are focused on man-made knits, adding to the region's importance in the growing activewear category. The anchor in this strategy is UTEXA, a brand-new filament polyester yarn mill, representing an $80 million investment in plant, equipment and training.
The conference agenda also included a highly supportive video talk by the Honorable Juan Orlando Hernández, president of Honduras.
Mike Todaro, AAPN managing director, and Tony Anzovino, AAPN president and chief sourcing and merchandising officer, Haggar Clothing Co., followed Canahuati with presentations on the background of AAPN and detailed charts highlighting trade data.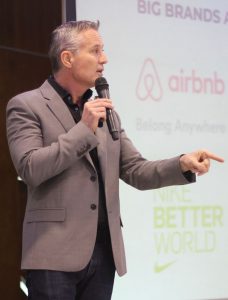 The keynote speaker was Simon Mainwaring, founder of We First, a brand and leadership consultancy that provides purpose-driven strategy, content, and training. Simon spoke about "purpose-based branding" which is exactly what the Honduras2020 plan accomplished. This vision of investment, innovation and jobs, was presented by Jesus Canahuati at the 2016 AAPN Annual Conference, and the presentation led directly to this summit. It brands the region as one committed to the apparel industry.
Finishing the first day's agenda was a panel moderated by Walter Wilhelm, CEO of WWA Advisors. The panelists — Steve Cochran, CEO, Tegra Global; Ricardo Pettenati, CEO, Pettenati Industrias Textil; and David Ha, CEO, TexOps — shared their own stories of investment and innovation in the Americas.
That afternoon attendees left on buses for two tours of facilities. The first tour included UTEXA's filament yarn production facility, Honduras Green Energy, and the Villas San Juan Housing Project. The second tour highlighted Finotex Honduras and Coats (Finishing & Dyeing).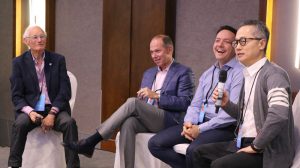 That evening, UTEXA sponsored a cocktail reception and fashion show featuring activewear produced by regional AAPN factory members. Following the show, regional banking company FICOHSA hosted a multi-cultural gourmet dinner. Both of these social events were held at the Club Hondureño Arabe.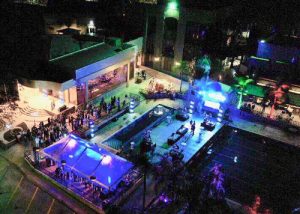 Thursday morning, November 29, began with two more tours. The first tour was of Genesis Apparel, the Elcatex Textile Mill and Stretchline. The second tour focused on Karim's Group's spinning mill.
The afternoon conference program was opened by Todaro who presented the AAPN Apparel Industry Leadership Award to Chuy Canahuati and also to Joe Cuervo who, prior to being recruited by Kohl's, worked in the Honduras2020 project office in Tegucigalpa, Honduras.
The afternoon's agenda included two core AAPN speakers. Ed Gribbin, CEO, Gribbin Strategic LLC and senior advisor to Alvanon, spoke on how to leverage all the new innovations within the region. He was followed by a complementary talk by Kurt Cavano, founder and president, GT Nexus (an Infor Company) on a topic Cavano calls Disruptopia: An Overview of the Speed of Technology.
Mario Canahuati, president of the Honduran Association of Maquiladoras, said: "These investments will radically change the economic activity of the North Coast. Having 250 representatives of the most important companies in the world drives more investment, creates jobs and improves the living conditions of our workers."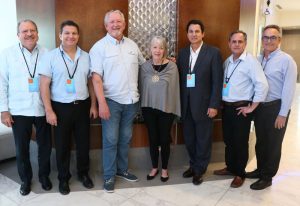 Juan Zighelboim, El Savlador-based TexOps, and an investor in Utexa, said: "This is not only important for the local Honduran industry, but for the Central American region. It is a movement that shows we are ready to fight with Asia."
As is customary at AAPN events, the conference was closed by attendees who were allowed to voice their impressions of the value of the content. Many of those attendees, including long time veterans of our events, called this the best in AAPN's history. Rumor has it, business was closed, joint ventures were initiated and mergers were being negotiated during the event. In other words, it was a typical AAPN meeting.
Posted December 4, 2018
Source: Americas Apparel Producers' Network (AAPN)