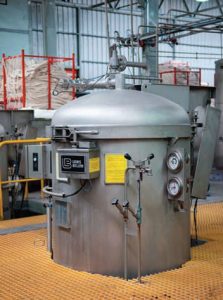 Ritex Group is the only company in Argentina that has a spinning, knitting and dyeing in the same mill.
By Hernán Seara, Textiles Panamericanos Argentina Correspondent
Continuous development has allowed Grupo Ritex to position itself as one of the largest textile companies in Argentina. Ritex has the backing and experience gained through its long history, as well as the necessary diligence and ability to respond to the demands of today's dynamic textile market.
In 1962, Eduardo Ekserciyan traveled from his native Turkey to Argentina with one of his sons in search of a better life. Without knowing the language, but as a result of his vision, Ritex quickly grew from its beginnings in a place lent by a relative located in the town of Villa Crespo, Federal Capital. Initially, the company had 3 circular looms and a cutting table. Six years later and ready to expand, the company moved to a larger location in the neighborhood of Palermo. The number of employees had grown to 25 as a result of the growing demand from its customers, mainly clothing manufacturers from Barrio de Once.
Continuing its expansion, the company again moved to the neighborhood of San Justo, province of Buenos Aires, where it consolidated the production area, a workshop, the offices and warehouse in a four-floor building. And in 1982, the company decided to move the entire production plant to La Rioja province, where initially spinning capacity was installed, and in the following years, a knitting mill and a dyeing capacity were added. Ritex was the first company to settle in the industrial park at La Rioja, so the government organized a parade of their machines in the main plaza of the town to honor them.
Ritex also has offices in the Federal Capital, where its commercial department operates. Currently, Ritex Group is the only company in the country that has spinning, knitting and dyeing in the same property. The factory occupies 60,000 covered square meters and its almost 1,000 employees manufacture approximately 850,000 kilograms of cloth per day. Having the three processes in one place allow many efficiencies within the textile value chain, and allows for higher production and lower costs. Undoubtedly, this is one of the great advantages that Ritex Group has over other manufacturers. The main goal of Ritex is to sell knitted products with added value, and eventually sell raw or dyed yarns if they have a surplus in production. The alignment of the spinning mill, knitting and dyeing is essential to avoid bottlenecks. The company made large investments in latest generation dyeing machines to provide the opportunity to add value to its fabrics.
Technology Investments
"In order to have a high level of specialization within the quality segment, we need to constantly investing in cutting-edge technology," said Andres Ekserciyan, third generation of Ritex Group. "We travel to fairs and work with a budget that must be respected to avoid becoming obsolete. As an example, in February we will be installing a new spinning mill with state-of-the-art OE machines, fully automatic and with a new production line. Every year machines are renewed as needs are identified in each sector."
Ritex has specialized staff in each area, with engineers with many years of experience both with the company and in the industry. This experience is basic in all areas, mainly in quality control, since one of the company´s visions is to work with the highest quality standards possible without leaving any detail to luck. It is therefore that the search for suppliers of excellence and working together with each of them is essential.
High-Level Production
The spinning mill is equipped with the latest technology and has a production capacity of more than 11,000 tons per year. With its modern machines, the company manufactures 100-percent cotton yarn and cotton-polyester blends. It produces counts ranging from 8/1 to 60/1. Cotton fiber is its main raw material, which, after demanding quality controls, is processed and mixed homogeneously. However, new commercial policies and market needs also are leading Ritex to work with different types of fibers including viscose.
The weaving mill has more than 90 circular knitting machines covering a total area of 6,000 square meters, which is equipped with an air conditioning system that ensures the necessary humidity to obtain an optimum quality. A wide range of fabrics such as jersey, polar, plush and interlock are produced.
"Our clients are from clothing brands with shopping stores to clothing manufacturers that take part in local fairs," said Ekserciyan. "Due to our price policy all our production is for the domestic market. Today, no Argentine company can compete on price with any other based in Asia or in the Southeast Asia. For these reasons we must be efficient, fast and provide an excellent service to our client to bring them back to choose us year after year."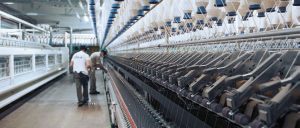 Ritex's commitment to their clients is to provide them the best personalized service and advice, providing expertise and permanent innovation, which together with the cooperation between the Department of Design and Development and the customer, makes high-quality products at the forefront of the fashion world possible.
Always looking to stay a step ahead and follow the market trends, Ritex engages directly with young people and the universities. They believe that industry and universities should work together so that young graduates can make a contribution as soon as they enter the workforce with less training needed. In line with that thinking, Ritex currently has an agreement in place with the University of Palermo, which covers sponsoring a university chair, providing working material twice a year, and judging a student parade with financial awards. Ritex also has similar agreement with the University of Buenos Aires.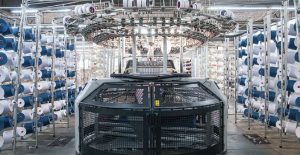 Today, the Argentine textile industry is experiencing a time of uncertainty. Activity in 2016 was very bad, however towards the end of 2017 there was a slight improvement with good expectations, both for the Ritex Group and the Argentine industry. "When the country is doing well, the textile industry is also well," Ekserciyan said. "We are the most federal industry in the country. We have a link of the textile value chain, garment manufacturers, industrials, designers … in every province of the country. Economic models are required to help our industry get back to strong basis then we can be again as strong as we always were."
May 17, 2018