Computer vision systems and robotics technology have the potential to automate the labor-intensive sewing process.
By K.P. Reddy
The art of sewing has not fundamentally changed since the first seamstress put needle and thread to fabric thousands of years ago. Even with great engineering advances including mechanized looms and sewing machines, the way sewn goods are produced is just as labor intensive today as it was 100 years ago. To further complicate matters, today's consumers want inexpensive, high-quality goods delivered to their doorstep within days, pushing the limits of the traditional manufacturing business model to its breaking point.
Over the past few decades, sewn goods manufacturers lowered overhead by relocating operations to the countries paying the lowest wages. However, this business strategy is becoming increasingly difficult to maintain because of rising labor costs in the developing world, a global shortage of skilled seamstresses, and a change in consumer behavior pushed by fast fashion brands and social media platforms. New market conditions have made the sewn goods industry ripe for a new age of automation.
There have been attempts in the past to fully automate the sewing process. Most of the previous systems relied on clamps to hold the fabric taught, making it more rigid and less susceptible to distortion. This system limited automation to certain operations during the sewing process such as when sewing on buttons or pockets. Aligning two pieces of fabric correctly and feeding them through the sewing head without slippage or buckling occurring — while maintaining the correct tension levels — has proven to be a process better managed by human hands.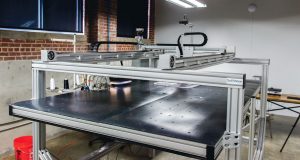 Advances In Automation
Atlanta-based SoftWear Automation Inc. recently introduced a radical new approach to sewing automation. The company has developed a system that eliminates fabric distortion issues by relying on an advanced computer vision system. The camera tracks stitching at the needle and coordinates the precise movement of the fabric using lightweight robots.
SoftWear's line of sewing robots, with their patented high-speed computer vision systems, have the potential to transform today's labor-intensive manufacturing plants into high-tech automated production facilities. The "sewbots," or sewing robots, reduce production costs, increase quality, cut lead times and allow brands to take back control of their manufacturing process.
As sewn goods manufacturing moved from high-wage labor markets such as the United States and Europe to low-wage labor markets, brands went from being experts in their craft to marketing and merchandising machines completely disconnected from their manufacturing operations. Development that was once overseen by in-house teams with an advanced knowledge of production processes now is performed a world away and managed by contract manufacturers who often place high piece minimums on orders and modify designs to streamline production. This new paradigm stifles brand creativity and has created a situation where one misstep in trend forecasting can result in millions of dollars lost in inventory.
Instead of guessing what the market will want and then meeting piece minimums set by contract manufacturers, SoftWear's technology allows brands to be more agile and able to meet consumer specific demands in a real-time environment. Because SoftWear's sewbots are priced comparable to the wages of a skilled seamstress in industrialized nations, brands will be able to relocate their manufacturing operations closer to the consumer, further reducing time to market.
Last year, SoftWear launched the LOWRY robot, a pick and place system that integrates with a manufacturer's existing sewing machines. As the product was introduced, the company expected manufacturers in the United States and Europe to show the most interest. However, a large number of calls came not from the United States, but from contract manufacturers in low-cost labor markets like Bangladesh and China — the very countries who benefited the most from outsourcing in the 1990s. Just like Western countries, manufacturers in the developing world are having trouble finding and retaining skilled seamstresses. Globally, Millennials are migrating to city centers and generally are uninterested in factory work. The combination of this shortage of skilled labor with the market's desire for lower costs and faster delivery is driving many brands to look to fully automated sewing lines.
Future Outlook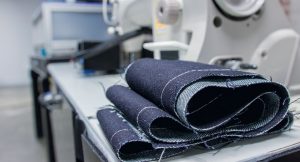 The trend toward automation will not immediately force large swaths of sewing machine operators from their jobs. In fact, automating production actually will create new jobs, especially in high-cost labor markets. From a robotics and automation perspective, SoftWear has seen many workers taking an interest in learning about the company's technology so they can move from low-wage, less-skilled work into higher-wage positions. Someone is needed to program and maintain the machines, and there is a strong pipeline of young people who are eager to take those jobs.
As with any new technology, automation in sewing still has some hurdles to overcome before robots fully replace seamstresses. Some of these issues lie with executives in the sewn products manufacturing industry who have relied on an outdated business model for far too long. When it comes to the technology itself, SoftWear is working diligently to increase its machines' capabilities around the wide array of fabric types and operations that go into producing stock keeping units for manufacturers in home goods, automotive textiles, apparel and footwear markets.
With time-to-market, customization, and cost being the primary drivers in sewn goods production — especially in relation to apparel — it is only a matter of time before low-cost, technologically advanced robots replace traditional seamstresses around the world.
---
Editor's Note: K.P. Reddy is CEO of Atlanta-based SoftWear Automation Inc. This article is based on Reddy's presentation given at the 2015 Textile World Innovation Forum.
---
May/June 2016