Bangladesh-based apparel manufacturer Aman Graphics and Designs recently implemented the intelloCut material planning solution developed by ThreadSol Softwares Pvt. Ltd., India.
The companies report Aman has realized 10-percent fabric savings since taking the software live.
"After implementation of intelloCut, we experienced profound improvement in stores and cutting systems, processes and efficiency," said Ronnie Serasingha, CEO, Aman Graphics. "The system has put our processes on auto pilot.
At the same time, the live data in the form of reports has helped management gain transparency. The intelloCut team is the most efficient and best support team during and after implementation. I am sure we will get benefit of what we have invested in intelloCut in a short lead time."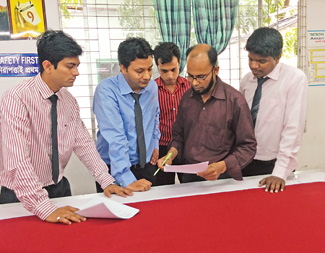 ThreadSol consultants setting up the intelloCut solution at Aman Graphics.
Fall 2015