Spin Expo had a mix of international exhibitors, and presented a spectrum of yarn companies, two producers of metallic fibers with a sprinkling of China-based knitted garment makers. Exhibitors showed yarns spun of cashmere and ultrafine merino at the high end; for greater volume there were blends. Yarns tended to be ultrafine and lightweight or deceivingly lightweight and bulky. Eco-friendly products also were on display.
China-based Yarns and Colors showed three collections. In the least expensive there are bouclés, fake furs and eyelash effects spun using a combination of natural and man-made yarns. "The duty on wool is one-half the duty on synthetics, so it is economical to put in more wool," said Felise Erdal, Yarn Mavens, agent for Yarns and Colors. The mid-priced range has comfy, cozy brushed yarns that are not too hairy; chenilles; and a yarn cut from printed fabrics and wound onto cones. The high-end collection from Yarns and Colors is selling well for menswear. The company showed soft yarns with a slight luster spun using silk blended with cotton or linen. Some of the most popular yarns include cashmere/silk bouclés, baby alpaca blends and an ultralight, fine 100-percent camel's hair yarn.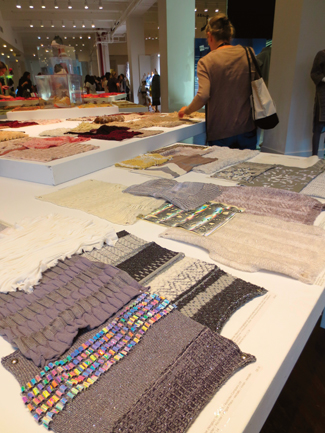 Trends at Spin Expo included luxury and metallic fibers.
There are three brands from the Germany-based Sudwolle Group that are selling products in the United States — Biella Yarns, Richter Yarns and Yarns in Motion. Biella Yarns is one of the world's major merino wool yarn spinners. The line features a lot of cashmere as well. Yarns spun using extra-fine merino blended with cashmere and nylon, silk and cashmere or alpaca are soft and fine. A 100-percent cashmere yarn is soft-twist spun to give it a softer hand, improved recovery and reduced pilling.
Yarns in Motion produces a sportier line. Hans G. von Schuh, managing director, sales, showed an ultrafine T-shirt knitted using a 15/5 micron extra-fine merino wool, and a 100-percent wool woven sports shirt that is ultrafine and lightweight. Both yarns have a cotton touch and are machine washable. The Sudwolle Group's Richter line primarily sells to the sock industry.
There is a lot of novelty in the line from Italy-based E. Miroglio. Extra-fine merino worsted yarns are blended with cotton, acrylic, nylon, viscose or stretch in ultralight and open bulky yarns, soft fuzzy yarns, bouclés, and hairy or cut yarns. There is a new collection of viscose and elastane colored yarns for knits or woven jacquards.
At Todd & Duncan Ltd., Scotland, there are 2/28 cashmere yarns available in 165 stock colors. New products include denim-look yarns spun using 100-percent cashmere, 2/36 cashmere, and blends with silk or lurex. Last year, Chanel selected a heavier 5/26 cashmere. Ultrafine lambswool, colored nub yarns, slub yarns, and marled yarns made using cashmere, lambswool, or blends are other favorites.
Lana Reale, agent for Canada-based Jacques Cartier and Italy-based Casa del Filato, showed eco-friendly lines from both companies. Jacques Cartier offers yarns spun using qiviuk, fiber from the Arctic muskox, which have been bought by Hermes and Louis Vuitton. Yarns made using qiviuk are lighter weight than vicuña, hypo-allergenic and do not pill. Casa del Filato offers novelties in recycled cashmere and wool blends including tweeds and furry yarns.
China-based Hongye Cashmere Co. Ltd. is styled by Italians. The company uses cashmere yarns from Alashan. Unfortunately, today many of the animals are used for meat, which cuts down the yarn supply. New for fall are lightweight heathered yarns that are fine spun using worsted cashmere or merino and cashmere. There is a huge range of stock colors available.
China-based Consinee is styled by Jane Sked, an English woman who lives in Hong Kong. The company offers an enormous color range, including fluro shades, which are in stock service. Yarns are spun using cashmere and blends with baby wool and yak fibers. There are Donegal tweeds and slightly heathered heavier yarns that have a vintage quality and soft hand and are selling to both men's and women's wear. Top Line from the Consinee Group features fancy yarns with lots of stretch. There are smooth felted yarns, wool bubbles on mesh, denim looks, super fine gossamer yarns, neps, bouclés, tweeds and ultralight thick and thin yarns spun with cashmere, mohair, alpaca and blends.
China-based Hua Lian offers lightweight chunky yarns, tweeds, tone-on-tones, marls and eyelash effects spun using merino wool, cashmere, acrylic blends or cotton-rich yarns. The company spins one million yards of cotton/cashmere annually, and its best seller is a clean, lightweight yarn featuring fine slubs.
Heathered or mélange yarns are a specialty of China-based Huafu. Other styles include marled effects, space dyes, Donegals, flat nubs and metallic touches spun with Angelina. At Meadowbrook Inventions Inc., Bernardsville, N.J., Angelina producer, Roberta Rushmann said the company is developing new fibers and colors to add to its collection of aluminum, copper, silver and iridescent fibers. Angelina fibers have a cashmere-soft hand and are eco-friendly.
The United Kingdom-based Lurex Co. sells a range of metallic yarns for knitwear. Some are twisted and some are transparent. There is a huge color range on the metallized polyester color card. Lurex/wool and Lurex/rayon yarns are soft.
Kingpins
Two fiber companies, Invista and Cotton Incorporated, showed new denims and developments at Kingpins. Jean Hegedus, Global Marketing Director-Bottoms, Wichita, Kan.-based Invista, told Textile World the company is launching a new campaign titled, "Lycra® Moves You." The campaign brings to life three key benefits of Lycra — freedom, comfort and movement. "Some menswear denims have 30- or 40-percent stretch," Hegedus said.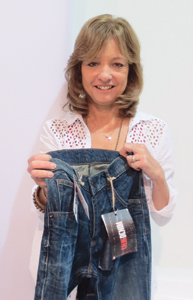 Jean Hegedus, Global Marketing Director-Bottoms, Invista
Stretch denim fabrics Hegedus showcased are wovens that look like knits made by Pakistan-based Siddiqsons and Taiwan-based Knitindigo; flecked and resin patches finished by Garmon Chemicals, Republic of San Marino; denim featuring CoolMax® from China-based Advance Denim; and denim featuring Thermolite® for warmth from the Black Peony Group.
Theresa Zugay, executive account manager, Cotton Incorporated, Cary, N.C., presented a variety of denim treatments developed by its product development department. Treatments include a blistered jacquard double knit in an indigo friendly color with crinkled metallic foil, gel dyes that are waterless and create tie-dyed effects, sulfur-dyed black denim that turns mottled gray, and sanded and embossed denims enzyme washed using stones for a paler look.
Silvadur™, an antimicrobial sustainable application treatment from The Dow Chemical Co., featured in several denim fabrics at the show, which require less frequent washing. Dow reports its promise of freshness is especially good for travelers, and there is increased quality with less degradation over the lifetime of a pair of jeans.
Kara Nicholas, vice president, design and marketing, Cone Denim LLC, said the company has worked with Unifi to develop a new yarn that has a soft, cotton-like hand, stretch and all of the recovery and washing benefits of a man-made fiber. ConeTouch, based on Repreve® recycled bottle technology, is made into a 12.5-ounce-weight denim for men and 9.5-ounce denim for women. Another new product at Cone is VaraBlue™, a cationic pretreatment for the warp yarn that produces yarn-dyed and ring-dyed effects.
Spain-based Tavex S.A. showed four new technologies. The Aquasave denim dyeing process uses no water. Tri-blend Technology is a new development combining super stretch with super recovery and low shrinkage. Using the high stretch of Lycra and recovery properties of Lycra T400, denim fabrics feature super stretch, retain their shape and are comfortable to wear. Absolute Fit, a blend of cotton/polyester/spandex, is highly elastic and provides ultra slim fits. Fitness Denim, a blend of cotton and spandex, is for men and offers comfort and flexibility.
New stretch denims at Denimatrix provide comfort and performance. A new stretch denim uses Lycra dualFX®, new dye shades are dark and saturated with high and low contrasts, and a new tri-blend of cotton/spun polyester/spandex has less sheen, a soft hand and good recovery. Stretch denim has become important in the men's market, especially for young men who are into skateboarding and other sports.
Spain-based Santanderina S.A. is weaving Tencel®/bamboo denims that offer a luxurious soft hand. Some fabrics look like jacquards. The company offers indigo-dyed knitted denim with high multi-directional stretch, Tencel indigo-dyed yarn featuring a soft hand, and Tencel/cotton/nylon stretch fabrics that are color coated and lighten when washed.
November/December 2014