Texworld USA, whose Spring/ Summer 2015 edition was recently staged at the Javits Convention Center in New York City with 268 exhibitors from 18 countries, is the largest textile and apparel trade show in the city. Kingpins, held at The Tunnel on 11th Avenue, is the smallest, with less than 60 exhibitors, all focused on denim.

Texworld USA
The 16th edition of Texworld USA, produced by Messe Frankfurt USA, Atlanta, was joined by the fifth International Apparel Sourcing Show, where buyers could locate global manufacturers of apparel and accessories for men, women and children. Most of the apparel sourcing exhibitors were from Asia and included formal and casual wear producers, as well as producers of gloves, scarves, hats and slippers.

Lenzing AG, Austria, showed new fabrics and innovations containing Lenzing Modal® and TENCEL® fibers. One new collaboration features a variety of novelty fabrics with cotton. Tencel/cotton fabrics include soft-hand shirting weights, knit-look wovens, transparencies, ultralight twills and sweater knits in blends with organic cotton. There are bottomweight chinos, plaids, and a lot of novelty. Other fabrics are blends with linen, alpaca, wool and LYCRA®. Most have a soft touch, subtle sheen and drape.
At Buhler Quality Yarns Corp., Jefferson, Ga., Supima® cotton, MicroModal® and MicroTencel are best sellers. The most common yarns are 30/1. "When using fine-count yarns, we must upgrade the quality of fibers we use," said David Sasso, vice president, sales. "And with air-jet spinning, we do have an advantage. We're working on concepts such as performance, including TransDRY® [moisture management]." Home areas Buhler is selling into include ultrafine sheets and coarse towels.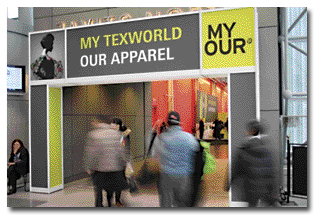 The fifth International Apparel Sourcing Show was held in conjunction with the 16th Texworld USA at the Javits Convention Center in New York City.
Tuscarora Yarns Inc., Mount Pleasant, N.C., the largest U.S. producer of ring-spun and open-end specialty yarns, showed novelties such as a slubbed yarn of polyester/cotton and a natural tri-blend. At the show, there was great interest in flax. EcoSure™ is a polyester/flax blend. A micro polyester/MicroModal blend was shown in a very soft, light jersey. "There is great demand for yarns made in the USA," said Kim Williams, director of marketing, "and we're known for making the fun stuff."
Samil Spinning Co. Ltd., South Korea, sells to knitters and weavers. Ecosil is an air-jet spun, twisted eco-friendly yarn. DrySil® is fast-drying with moisture management. There is a lot of Modal, Tencel and high-tenacity rayon. Samil's Lenzing FR® yarns are used in textiles for the South Korean army.
Mansfield Textiles Inc., Vernon, Calif., has new jacquard machines that are knitting novelty stripes with surface interest such as bubbles and flecks. Of special interest are new stripes, French terries, small textures and eco-knits with Modal or Tencel. An ultralight, soft piqué was pointed out. "Our business is up over 25 percent," said Warren Zaretsky, vice president, sales.

Laguna Fabrics, Los Angeles, knits all of its fabrics in California. The range is enormous. A hairy, soft sherpa is knitted of Modal/polyester. There are slubbed linen jerseys, Tencel/flax sweater knits, soft-hand ribs with coordinates and a double-faced French terry that is a very good seller. Textures are selling, and their business is up more than 15 percent.
Miroglio Group, Italy, also is an exhibitor at Première Vision. At Texworld, the company shows fabrics that are designed in Italy and made in Asia. Best sellers are coordinating heavy stretch striped and plain knits. There are mesh knits, open pin dots, large and small bubble textures, silver-coated double-faced leathers, metallic sheer animal skins, lustered and lacy iridescent sheers, and denims.
Mozartex Co. Ltd., China, has an extensive line of woven fabrics and prints. There is a lightweight denim for tops. Foil prints with stretch can be very shiny allovers or blotchy with semi-sheen. There are carbon coatings and wax coatings. Prints include misted florals, alligators, melted grounds and misted looks.
Everest Textile Co. Ltd., Taiwan, showed eco-friendly organic cotton/recycled polyester fabrics including fast-dry and "function with fashion," which has a lot of stretch.
The next Texworld USA, which will include the International Apparel Sourcing Show and the Home Textiles Sourcing Expo, will be held July 22-24, showing fabrics for Fall/Winter 2015-16 (See "Texworld USA: A Sourcing Spectacle," this issue).
Kingpins
Not only are major denim producers at Kingpins, but this show also features what goes into denim and what goes with it. Fiber producers and marketers include Invista, Wichita, Kan.; Cotton Incorporated, Cary, N.C.; and Lenzing. Invista is a sponsor. Kingpins started in 2004 with 25 exhibitors. "I want to keep it small and focused," said Andrew Olah, the show's producer.
Invista has partnered with Lenzing to create denim that eliminates seam slippage and puckering, and has improved recovery. Tencel, with its soft hand, light weight, slippery touch and luster, is combined with Lycra T400® to create denim with great stretch and recovery that has all of the attributes in demand. Both stands featured tight jeans that fit well, and provide comfort and skin friendliness.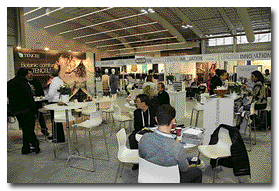 The Lenzing Innovation pavilion at Texworld USA showcased companies whose offerings feature Lenzing Modal® and TENCEL® fiber.
Cotton Incorporated showed new denim products it has developed including foil-coated denim, digital prints, splatter prints, double faces, iridescence, TransDry and knits. One jersey is knitted with ring-spun yarns, and is ultralight and soft.
Cone Denim, Greensboro, N.C., has soft-touch denims with enhanced power stretch using SGENE® technology. The company is using Tencel to make lightweight soft-hand jeans fabrics, and linen for a dry hand; and it has created an ultralight, almost chambray-weight denim of 100-percent cotton. Another product is a light, soft denim that has a cationic coated weft yarn that provides different colors on each side of the fabric.
Tavex Corp., Spain, noted that men now like stretch jeans. Standard is 30-percent stretch; super-stretch is 40-percent; and for absolute fit, there is 60-percent elasticity. Tavex is using Lycra T400 blended with cotton. Tencel denim is a work in progress.
Siddiqsons, Pakistan, is a vertical company from spinning to garment manufacturing. Knitted denim has a woven look, and is soft to the touch and rope-dyed.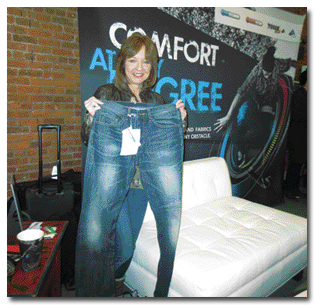 Jean Hegedus, global marketing director — bottoms, Invista, shows a pair of denim jeans that contain Invista's CoolMAX® technology.
Textil Santanderina, Spain, sells to Ralph Lauren, Guess, Abercrombie & Fitch and Lands' End. There are compact cotton sateen jeans fabrics, cotton/Tencel shirtings and bottomweights. Fabrics of 100-percent Tencel are light, lustrous and indigo-dyed. Some wovens have a knitted look. Discharge prints on shirtings can be dyed black and bleached for a marbleized look. There is a lot of stretch.
At American Denimatrix, fabrics are woven in Littlefield, Texas, and made into jeans in Guatemala. Novelty jeans include foil-coated garments. All jeans can be traced back to the farm that grew the cotton — including the Certified FiberMax® or Stoneville® cotton varieties, both developed by Kingpins exhibitor Bayer CropScience AG, Germany.
There was great interest in SILVADUR™ by Dow®, a sustainable, durable, protective, controlled-release antimicrobial process developed by Dow Microbial Control, a business unit of The Dow Chemical Company, Midland, Mich. Silver ions provide odor control by interacting with odor-causing microorganisms on the surface of treated fabrics, and a lesser amount of active ingredient is required compared with other antimicrobial ingredients including other silver-based ingredients. Levi's is using Silvadur.
May/June 2014