New looks for Fall 2014 are developed from old archives. Fabrics can be double-faced, ultralight,
soft and brushed; resist the elements; and are sustainable. There are knits that look and feel like
wovens, and wovens that resemble knits. Lacquered, waxed, bubbled, tweed, flocked or perforated
surfaces are selling. And denim – or the look of denim – is everywhere.
Creativity and imagination starred at Première Vision New York. At Texworld USA, knitted
fabrics designed and made in America were selling. Denim specialist Kingpins showed fabrics, fibers
and findings.



Première Vision New York


At Première Vision New York, suiting fabrics were lightweight and had a casual look. Robert
Noble, United Kingdom, was inspired by its archives from the 1850s. Recolored Shetland wool tweeds
are hairy, light and available in coordinating patterns. There are tartans; gun club, glen and
windowpane checks; and solids.
Picchi S.p.A., Italy, is selling bright-colored, textured woolen fabrics. Bouclés, heathers,
thick twills, felted fabrics and flannels coordinate with enormous yarn-dyed plaids, box textures,
camouflage prints, flocked patterns and perforations. Pink, yellow and hot blue are favorite
colors.
BTD, Turkey, has polyester/viscose blends that look and feel like wool. Some have a stretch
yarn. There are novelty weaves and new finishes for an antique, brushed, waxed or tie-dye look and
touch. One best seller is soft-touch denim in a blend of cotton, polyester, viscose and elastane.
Velcorex since 1828, France, has corduroy that looks like denim. Ultra-lightweight,
narrow-waled, printed, jacquard-patterned, embossed, coated and overdyed – a lot is happening with
corduroy and velvet.
Italy-based Profilo S.n.c.'s denim is woven of cotton/viscose. There are jacquard patterns,
shine, camouflage looks, velours and leather looks. Some are spotted, coated, or appliquéd with
metallic dots.
Alcantara, Italy, sells a sustainable line to Armani, Fendi and Ferragamo. Its core business
is automotive fabrics. Washed polyester/polyurethane suedes are printed, embossed, embroidered,
quilted, laser-engraved or pleated.
Knitted outerwear fabrics at A-girl's Co. Ltd., Japan, look and feel like wovens. There are
reversible wool/cotton/nylon knits for peacoats, flat stretch cotton/polyester terry, lightweight
wool pile, and TENCEL®/cashmere/polyester tweed or herringbone digital prints for dresses.
Jacquard knits at Bel Maille, France, look and feel like neoprene. Other fabrics include
engineered stripes and printed knits for lingerie. New yarn mixes include silk/cotton/viscose or
wool/cashmere/nylon blends.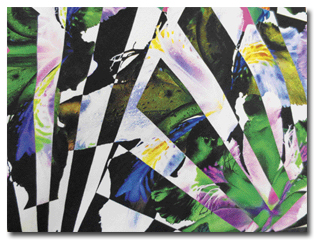 Miroglio Textile showed huge allover patterned fabrics at Première Vision New
York.
High performance is the specialty at Frizza S.p.A. and Olmetex S.p.A., two Italian firms
that sell outerwear fabrics. Double-faced, bonded and resistant to the elements are givens. At
Frizza, there are shiny/dull bubble and reflective jacquards, dimensional patterns, metallic
allovers, and coordinating fabrics. Olmetex has transparent silk water-repellent fabrics, wax-hand
cottons, matte/shine camouflage patterns and cotton/silk washed poplins.
Digitally printed fabrics are multicolored, huge and allover at Miroglio Textile S.p.A.,
Italy; Sprintex S.A.S., France; and KBC, Germany. There are landscapes, melted stripes, flowers,
geometrics, abstracts, paisleys and skins. Miroglio has printed velours. Flowers are sometimes
fractured and coordinate with checks. Sprintex is showing tapestry prints and florals on misted or
checked grounds. At KBC, paisleys combine with foulards, and animal prints are selling.
London-based Liberty Art Fabrics' best seller is small, ditsy flowers. New base fabrics
include brushed or bonded Tana lawn, denim, water-repellent nylon for outerwear, cotton stretch
gabardine and Harris Tweed. And there is a new line of digital prints.
For evening, France-based Denis et fils and Solstiss S.A. showed dazzling lines. At Denis et
fils, coordinating jacquards and metallic patterns combine paisleys, stripes, and florals. Solstiss
has stretch laces combining flowers with geometrics, and a mix of modern with traditional.

Texworld USA


At Texworld USA, along with fabrics, there were areas devoted to apparel and home textiles
sourcing.
At Texworld and at Kingpins, the International Oeko-Tex Association presented its STeP By
Oeko-Tex® system for certifying sustainable production and working conditions in the entire textile
industry supply chain. STeP looks at chemicals, environmental protection and management, social
responsibility, quality management, health, and safety.
Lenzing AG, Austria, exhibited at Texworld and Kingpins. At Texworld, it centered a large
area of spinners, knitters and weavers that use Tencel and Lenzing Modal®. At its own booth, it
promoted denim, chambray and activewear. Tencel/cotton blends are strong. "People want more
crossover from day- to activewear," said Tricia Carey, senior merchandising manager, Textile
Fibers.
Buhler Quality Yarns Corp., Jefferson, Ga.; and Tuscarora Yarns Inc., Mount Pleasant, N.C.,
showed Modal and Tencel. At Buhler, there are fine-count air-jet yarns that have excellent drape,
and soft-touch slub yarns. Tuscarora showed dope-dyed Modal, mock-twist yarns, slubs and nubs,
vintage-look denim yarns of cotton/Modal, and polyester/flax blends.
Buhler customer Design Knit Inc., Los Angeles, custom-develops fabrics – all U.S.-made –
with a focus on Tencel, MicroModal®, luxury Supima® and flax. Of special interest are stripes,
sheer to heavy tweeds, double-faced fabrics, pucker, slubs, heathers and tonal effects.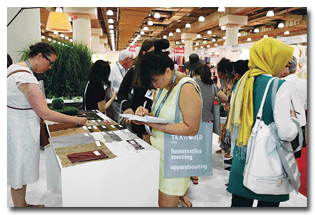 Attendees view fabric samples at Texworld USA
Laguna Fabrics, Los Angeles, has fast deliveries and a sample stock program. Single and
double knits weigh in at 4 to 12 ounces. Current favorites include heathers, piqués, French terries
and thermal knits.
Texollini Inc., Long Beach, Calif., has true indigo-washed knits. Scuba, a soft,
nylon/LYCRA® double-knit, has the look and feel of neoprene. Most fabrics are for activewear, and
all are knitted in the Americas.
Springs Creative Products Group LLC, Rock Hill, S.C., showed fabrics from its True Timbers
print division as well as brocades, organzas, sequined fabrics and activewear fabrics.
Thermore S.p.A., Italy, is selling thermal insulation to LL Bean, Eddie Bauer, Nautica,
Nike, Levi's and Ralph Lauren. One new ultralight style is called Thermore Aria®.
At Parlamis Tekstil, Turkey, yarn dyes, prints and jacquards in blends of wool, silk, linen
and synthetics are selling. Crepe is a best seller.
Isil Tekstil, Turkey, has baroque prints and batiks on viscose jersey and lightweight
wovens.
Hemp Fortex Industries (Rushan) Ltd., China, spins, knits and weaves blends of organic and
recycled cotton, recycled polyester, silk and linen into mens- and womenswear fabrics.

Kingpins


Denim producers and fiber companies presented developments at Kingpins. Cotton Incorporated,
Cary, N.C., showed new types of printing including foil-printed denim, digital prints, and ozone
and laser prints.
Invista, Wichita, Kan., showed wovens with a knitted look and knits that look and feel like
wovens; four-way stretch with XFIT Lycra; and performance denims for menswear.
At Lenzing, there was an explosion of chambray and super-skinny jeans with stretch.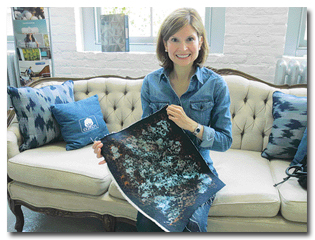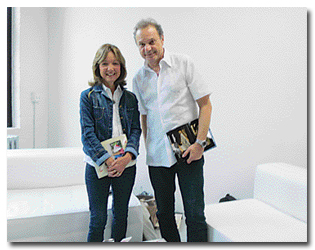 top to bottom: Teresa Zugay, Cotton Incorporated, shows a foil-printed denim concept at
Kingpins; Jean Hegedus, Invista, and Andrew Olah, Olah Inc. and Kingpins, take a break at Kingpins
to smile for the camera.


Bayer CropScience AG, Germany, introduced its e3 sustainable cotton program for its
Certified FiberMax® and Stoneville® cotton.
The Dow Chemical Company, Midland, Mich., exhibited its SILVADUR™ antimicrobial,
odor-control treatment, which was featured in India-based Arvind Ltd.'s denim line.
Arvind also showed organic cotton denim dyed with natural indigo; denim woven of 100-percent
linen or yarns from recycled coffee grounds; natural indigo overdyed in gray or brown; and
wax-finished denim.
Tavex, Spain, showed stretch for menswear. Coated denims are popular, especially with color.
Blue on gray and earth tones on indigo were noted.
Bests at Cone Denim, Greensboro, N.C., include sustainable selvage denims with an indigo
warp and weaves using CRAiLAR® Flax blends.
There is a lot of Tencel in Spain-based Textil Santanderina's line. Fabrics include embossed
and brushed denim, coating on indigo dyes that can be washed down, waxed coatings and shiny looks.
September/October 2013