Apparel fit solutions provider Alvanon Inc., New York City, now offers the Mexico Standard AlvaForm
Series of fit mannequins targeted to apparel manufacturers serving the Mexican market. Alvanon
President Ed Gribbin and Camara Nacional de la Industria del Vestido (CANAIVE) Past President
Alejandro Faes will introduce the series in Mexico City on Wednesday, February 6, at
ExpoProducción, a new trade show focused on the apparel, home textiles and technical textiles
sectors.
"The most obvious benefit to consumers will be better fitting clothes," Gribbin said. "For
retailers and brands that means improved sell through, conversion rates, customer satisfaction and
brand loyalty. On the manufacturing side, the standard will speed time from design to production
and facilitate greater quality control."
The Mexico Standard AlvaForms are based on averages of weight, height and body measurements
derived from data gathered during the Size Mexico body scan campaign, which was sponsored by
Mexico-based CANAIVE in conjunction with Walmart de Mexico, Paris-based fashion software provider
Lectra and CVS Group. The survey included thousands of body scans taken of consumers in 14 cities
across Mexico. The Size Mexico campaign is expected to benefit Mexico's apparel industry by
reducing merchandise returns and saving the industry $400 million by 2017.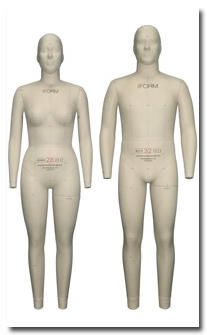 Alvanon is introducing its Mexico Standard AlvaForm Series of fit mannequins this week at
ExpoProducción in Mexico City.
According to Gribbin, Mexican apparel manufacturers had been using United States-related and
outdated Mexican size specifications. "It was time, with all the other size studies being done
around the world, for Mexico to support its clothing and retail industries and, most importantly,
end user consumers with accurate sizing data," he said.



February 5, 2013