Austria-based cellulosic fiber manufacturer Lenzing AG, manufacturer of Tencel® lyocell fiber,
reports that Cone Denim, Greensboro, N.C., has added Tencel® Denim fabrics to its Sustainblue™
collection of eco-friendly denim fabrics made using recycled cotton, polyester and sustainable
yarns. The new fabrics offer Tencel's soft hand, gentle drape and a unique sheen; and include,
among other styles, S Gene Indigo Stretch fabric, featuring Cone Denim's S Gene corespun stretch
technology incorporating more than one core. The stretch fabric is used in jeans and jeggings.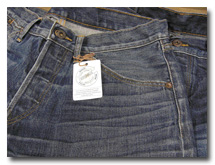 A pair of jeans made using Cone Denim's Sustainblue™ denim fabrics with Tencel®
fiber.
January/February 2013